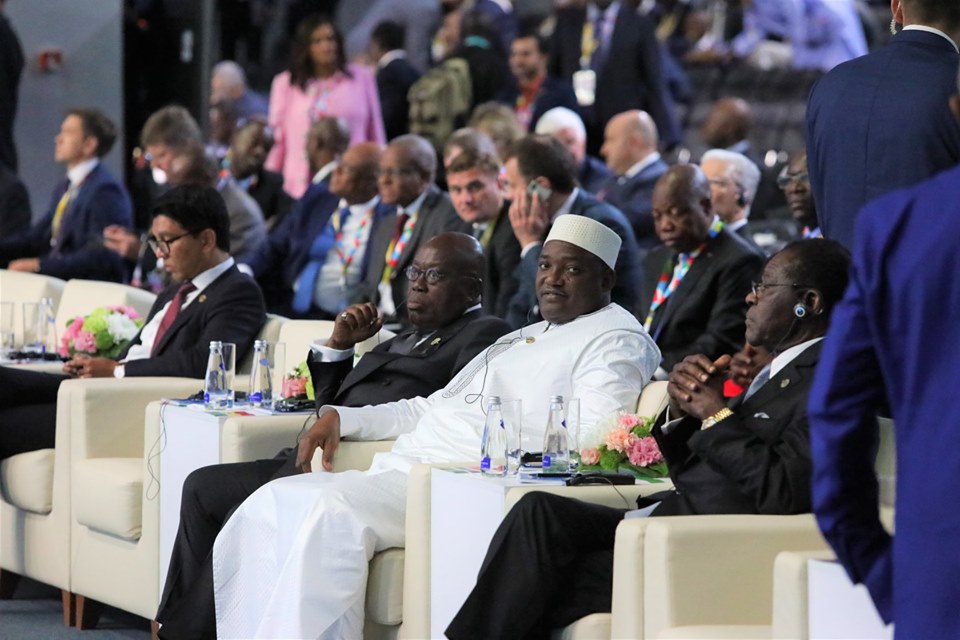 Government Matters
NEWS RELEASE President Barrow Participates in First-ever Russia-Africa Summit
State House, Banjul, 23rd October 2019 - His Excellency, President Adama Barrow on Wednesday morning participated in the first-ever Russia-Africa Summit currently taking place in the resort city of Sochi, Russia. He joined more than sixty African Heads of State and Government and other leaders in business, development, and politics to engage in multilateral discussions with Russian counterparts.
In his welcoming remarks, the President of the Russian Federation, His Excellency, Vladimir Putin said the economic forum is designed to build ''concrete avenues of cooperation and further development of the Russia-Africa Cooperation''.
President Putin stated that his country would seek to double trade with the African continent in the next five years, stressing that the current Russia-Africa trade level of $20 million is ''not enough''.
''I believe, we have the powers to easily double the volume of trade within the next four to five years, at the minimum'', Putin said in a speech at the plenary forum of the Summit.
'' We have many potential partners in Africa, lots of them. They have good development prospects and enormous growth potential. Of course, this is not enough.''The Russia-Africa Summit is co-chaired by the President of the Arab Republic of Egypt, who is the current Chairperson of the African Union.
On the sideline of the Summit, the new Mauritanian President, Mohammed Ould Ghazouani paid a courtesy call on President Barrow. The two leaders discussed means of strengthening the existing good relations between their countries.
President Ghazouani took the opportunity to thank President Barrow for attending his inauguration earlier this year while indicating that he was impressed with respect and dignity accorded to the Mauritanian community in The Gambia.
In response, President Barrow cited the new leader's inauguration as historic and exemplary for Africa, in that, it was the first time to have a peaceful and smooth democratic transfer of power from one civilian government to another in Mauritania.
Read Related Article :