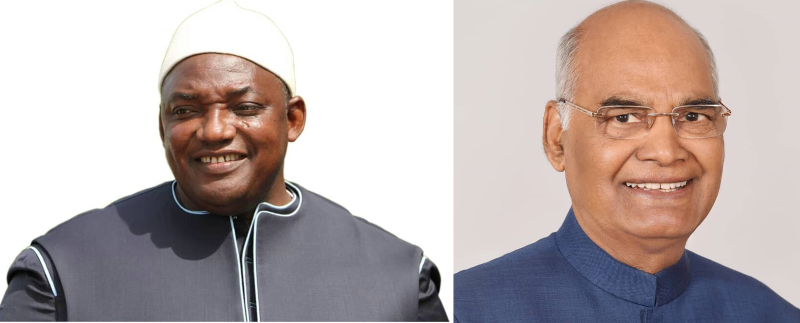 Ceremonial
President of India Will Visit The Gambia Tuesday
The Office of the President wishes to inform the public that the President of the Republic of India, His Excellency, Sir Ram Nath Kovind will arrive in Banjul on Tuesday, July 30th 2019, for a two-day official visit.
President Ram Nath Kovind will be the highest level Indian official ever to visit The Gambia. The official visit, which is part of a three-nation Africa tour, will shine the spotlight on the strong bilateral ties between the two countries. The Gambia-India cooperation is historic giving that the two countries have taken common positions in the United Nations, Non-Aligned Movement, and Commonwealth, among others.
Currently, the relations remain ever stronger and positive. New Delhi has extended several Lines of Credit to The Gambia, including the construction of the National Assembly Building Complex in the Capital City of Banjul. India has also trained some senior Gambian officials in its officer training academies in India. Since the arrival of the first Indians in The Gambia in 1965, the people-to-people ties have grown stronger through business, trade, and education.
His Excellency, President Adama Barrow will formally welcome the visiting president and delegation to The Gambia at a ceremony at the State House in Banjul, which will be followed by a press conference. Other important events in the programmes will include a State Banquet in honour of the president, and site visits to India-affiliated projects such as the National Assembly building.
*****************************************************************************************************
Profile of the President
A lawyer, veteran political representative and an ardent, long-time champion of equitability in society and integrity in Indian public life, Shri Ram Nath Kovind was born on October 1, 1945, in Village Paraunkh, District Kanpur Dehat, Uttar Pradesh.
Before assuming office of the 14th President of India on July 25, 2017, Shri Kovind served as the 36th Governor of the state of Bihar from August 16, 2015 to June 20, 2017.
Educational and Professional Background
Shri Kovind completed his school education in Kanpur and pursued higher education in Kanpur University for receiving the degrees of B.Com and LL.B. He enrolled as an Advocate with the Bar Council of Delhi in 1971.
Shri Kovind was Counsel of Union Government in the Delhi High Court from 1977 to 1979. He became an Advocate-on-Record of the Supreme Court of India in 1978. Thereafter, from 1980 to 1993, he was the Union Government's Standing Counsel in Supreme Court. He practised at the Delhi High Court and Supreme Court for 16 years till 1993.
Parliamentary and Public Life
Shri Ram Nath Kovind was elected as and became a member of the Rajya Sabha (Upper House of Parliament) from Uttar Pradesh in April 1994. He served for two consecutive terms of six years each till March 2006. A keen Parliamentarian, Shri Kovind served on the Parliamentary Committee on Welfare of Scheduled Castes/Tribes, Parliamentary Committee on Home Affairs, Parliamentary Committee on Petroleum and Natural Gas, Parliamentary Committee on Social Justice and Empowerment, and Parliamentary Committee on Law and Justice. He was also Chairman of Rajya Sabha House Committee.
Shri Kovind also served as Member of the Board of Management of the Dr B.R Ambedkar University, Lucknow and as Member of the Board of Governors of the Indian Institute of Management, Kolkata. As a member of the Indian delegation, he addressed the United Nations General Assembly on 22nd October 2003.
Positions Held
1977-1979: Union Government Counsel at the Delhi High Court
1980-1993: Union Government Standing Counsel in the Supreme Court
1994-2006: Member of the Rajya Sabha, representing state of Uttar Pradesh
2015-2017: Governor of Bihar
Personal Details
Shri Ram Nath Kovind married Smt. Savita Kovind on May 30, 1974. They have a son and a daughter. An avid reader, the President has keen interest in books on politics and social change,
law, history, and spiritualism. During his long career, Shri Kovind has travelled widely across the country as well as overseas. As President of India, Shri Ram Nath Kovind has visited Djibouti, Ethiopia in 2017; Mauritius, Madagascar, Equatorial Guinea, Kingdom of Eswatini (Swaziland), Zambia, Greece, Suriname, Cuba, Republic of Cyprus, Republic of Bulgaria, Czech Republic, Republic of Tajikistan, Vietnam,
Australia, Singapore and The Union of Myanmar in 2018.
As Governor of Bihar, he had travelled to the Laos People's Democratic Republic in February 2017. He has also visited Thailand, Nepal, Pakistan, Singapore, Germany, Switzerland, France, the United Kingdom and the United States in his capacity as a Member of Parliament.
Read Related Article :