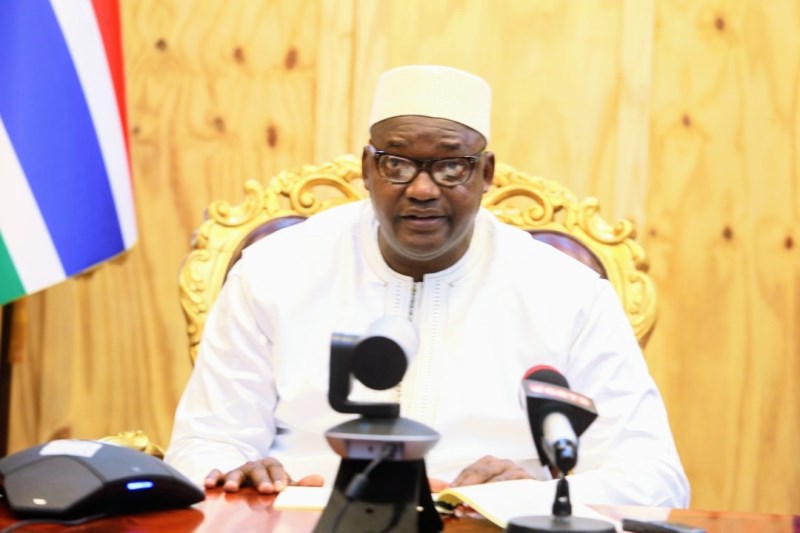 Ceremonial
Two-thirds Gambian workers face difficult situations due to COVID 19
President Adama Barrow has lamented that two-thirds of workers in The Gambia that work in the informal sector and account for 80% of the informal economy are facing a difficult situation due to COVID 19 crisis.
The President discussed their situation at the Extra-Ordinary Session of the ECOWAS Heads of State and Government virtual Summit convened in response to the COVID 19 crisis. He expressed concern that the bulk of The Gambian population is currently unable to meet their basic necessities due to this crisis.
"It is tragic that the vast majority [of workers] have no regular income and, therefore, have neither savings nor any social security buffer in case of loss of wages," he told colleague leaders today, April 23, 2020.
The virtual summit, as the first of its kind in the history of the sub regional bloc, gave leaders the opportunity to present their specific country situation, share experiences that served as a learning points for each of the leaders.
"Maximum effort will be placed on protecting employment and incomes for enterprises and workers negatively impacted by the indirect effects of COVID- 19. Financial, industrial and trade policies will be reviewed further," he told colleagues.
The Gambian president explained that in revisiting the country's policies to address the pandemic, health and social protection measures have been given priority. These range from testing and treatment to building human resources base in the health sector and expanding social assistance.
Fiscal policy measures include deferring filing and payment, reducing social contributions, granting low-interest loans, reprioritising and financing larger fiscal deficit.
On the overall picture, he said The Gambia has been monitoring the outbreak since WHO confirmed it and declared it a pandemic. The Gambia recorded the first case on March 16th. Overall, 332 tests have been conducted. As of April 21st, 10 cases have been confirmed within the country with only one death.
He however maintained that the immediate policy response of his government to the current situation is to focus on saving lives, limiting the spread of the virus and managing the crisis.
In his opening statement, President of Niger who is the Chairman of the Authority of Heads of State, Issoufou Mahamadou, said the COVID 19 effects on the sub region has a great social dimension such as deepening poverty and inequality, leading to an unprecedented crisis for the member states.
He added that it unravels new security challenges for many states in the sub region, urging colleague leaders to pray for prompt recovery for the infected members of the population and observe silence prayers for the deceased.
Read Related Article :