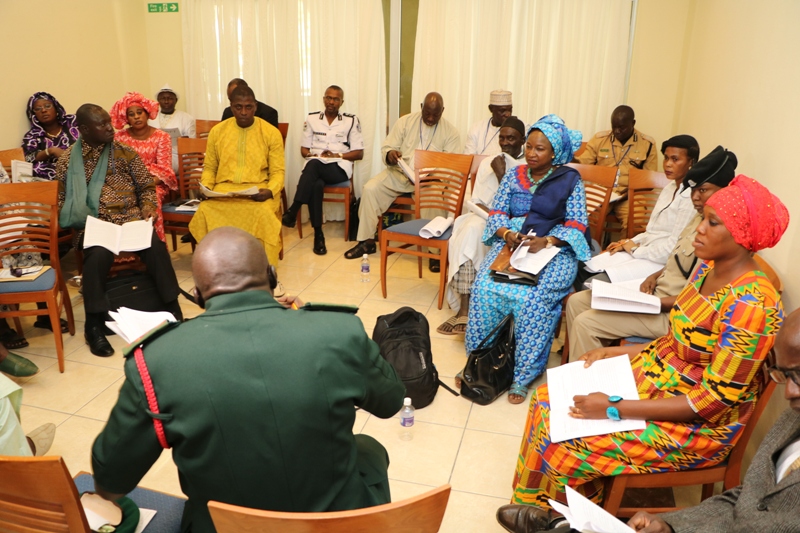 Latest news, News release
Cabinet Approves Civil Service Reform, Food Safety and other Bills
President Adama Barrow presided over his administration's seventh cabinet meeting today. The agenda covered governance, defence, agriculture, investment, food security, communication and the promotion of justice.
Vice President Fatoumata Jallow-Tambajang presented the 2018-2027 Civil Service Reform Programme, highlighting, among other areas, capacity building for civil servants to enhance civil service values and principles through effective management systems.
Presenting the proposed 2016 Food Safety and Quality Amendment Bill, the Vice President spoke about the National Aflatoxin Control Act and Investment Plan. She stressed the need to control Aflatoxin, especially in crops like groundnuts. She explained that doing so would reduce contamination of agricultural products and increase economic opportunities for Gambian farmers, given that groundnuts are the country's main cash crop.
The Executive will soon present the bill to the Gambian National Assembly for enactment. Once passed, it will provide the legal environment to protect agricultural products and make them viable to compete in the international market.
Cabinet also discussed the ratification of the Convention on Cluster Munitions, based on a submission from the Ministry of Defence. Cluster munitions are designed to destroy runways or electric power transmission lines, disperse chemical or biological weapons, or to scatter land mines. The Gambia is among the 108 countries that have signed the treaty, which came into force in 2010. By ratifying the convention, The Gambia will commit to non-use, transfer and stockpiling of bombs.
Cabinet also discussed the Presidency of the ECOWAS Commission. The Gambia is putting forth candidate for the Presidency of the ECOWAS Commission. This is the first time that the country is seeking the leadership of the Commission. It is a rotational position in the regional organisation. The current ECOWAS Commission President, Mr. Marcel de Souza, is from Bénin Republic, and his term expires in February 2018. The position has previously been held by Côte d'Ivoire, Sierra Leone, Guinea, Ghana and Burkina Faso.
Information and Communication Infrastructure Minster Demba A. Jawo spoke of the government's continuing priority for growth in the communication sector. He said work was progressing on an Information bill to guide the sector, including the sub-sector of broadcasting. Mr Jawo led the cabinet discussions on the licensing of television stations in the country. The bill is to be forwarded to the Ministry of Justice for presentation to the National Assembly.
Justice Minister Abubacarr Tambadou presented three bills for discussion.They were a bill on the establishment of the Constitutional Review Commission, another on the Human Rights Commission and a third on the Truth, Reconciliation and Reparations Commission. Cabinet approved for the bills for presentation to the National Assembly for enactment.
Read Related Article :