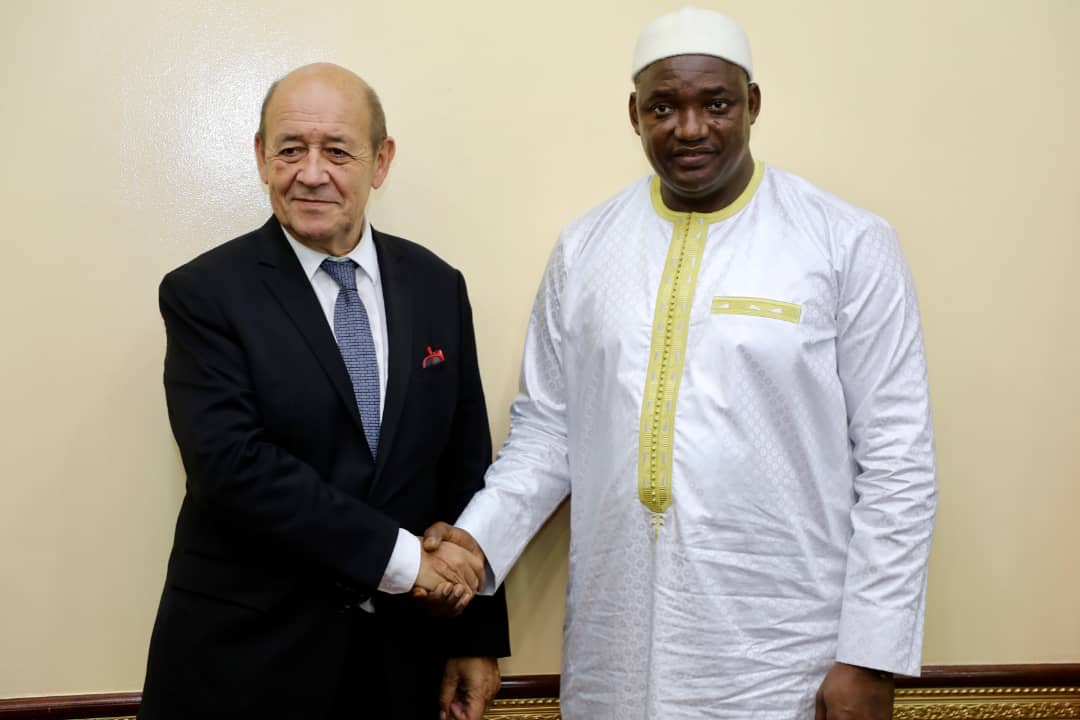 Ceremonial
French Companies in Senegal looking to expand in The Gambia
Jean-Yves Le Drian, the French Minister for Europe and Foreign Affairs in meeting with His Excellency, President Adama Barrow at State House Monday, 5th November 2018 announced that French companies operating in Dakar are ready to expand into The Gambia, through partnership with the country's private sector.
The Gambian President flew in from a high-level international forum in Dakar to meet with the French Minister and delegation in Banjul, who were on an official visit to the country. France had signed the Euros 50 million Memorandum of Understanding for agricultural support in The Gambia.
The Minister's visit is the second such high-level meeting in Banjul between the two countries for 65 years, it has been described as both symbolic and political. President Adama Barrow presided over the high-level meeting, attended by the Vice President, Minister of Foreign Affairs and other top government officials. He thanked France for their "enormous support to the new Gambia".
He said the political will is there for the private-sector led growth of The Gambia's economy, and called on the operators to take these opportunities and partner in every sector, assuring them of government's efforts to address the institutional challenges that affected their growth.
President Barrow assured that the road to economic recovery is almost here for the country. His government is encouraging public-private-partnership as a key policy, particularly with support from friends of The Gambia.
The visiting Minister Jean-Yves Le Drian had officially inaugurated the French Consular Office in Banjul on Monday. It is meant to improve bilateral cooperation and communications between Banjul and Paris.
He said France is happy to stand by The Gambia through technical and financial support as the country embarks on the new road to democracy. France has recognized this and has responded with a first invitation from President Hollande to President Barrow earlier this year.
Minister Jean-Yves Le Drian assured the President of the highest regards from the new French President Macron, who is also looking forward to meeting him in the future.
Minister Le Drian spoke of the new French school under construction in The Gambia. This would greatly facilitate the development of French language in the country, particularly with the observer status attained by The Gambia in the Francophonie club.
Read Related Article :