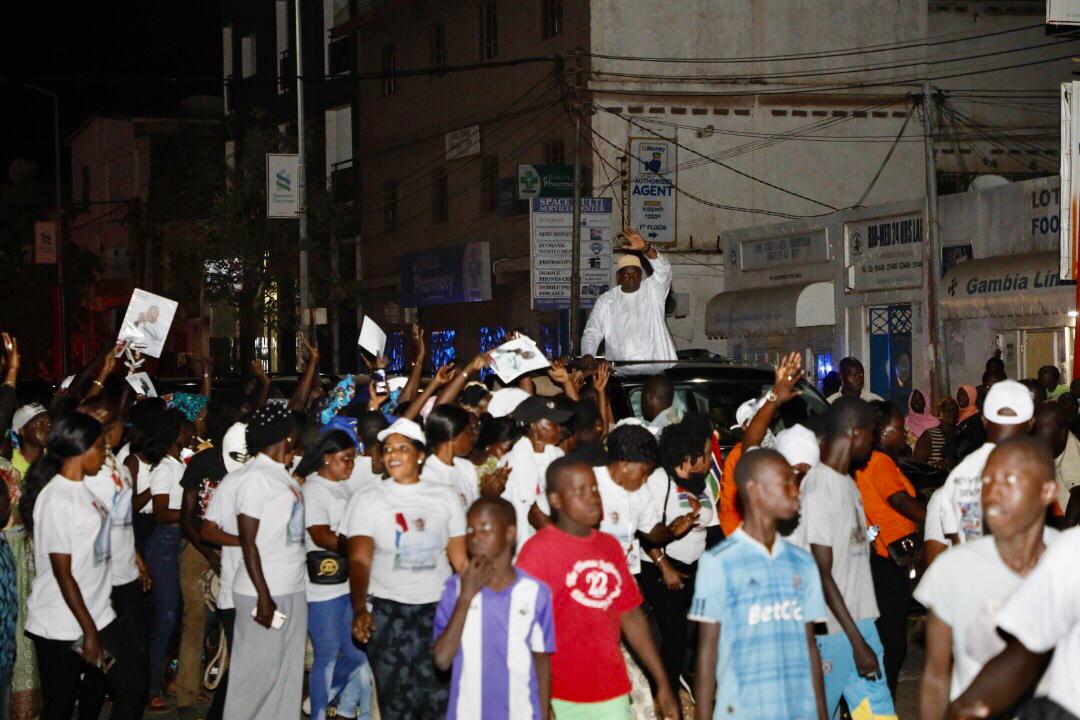 Ceremonial
NEWS RELEASE "Banjul is clean again" - Residents Applaud President's Rehabilitation Project
State House, Banjul, 10th December 2019 - During the concluding meeting of the president's nationwide Meet the People Tour in Banjul on Sunday, natives of the capital city hailed as important the Banjul Rehabilitation Project, which is the brainchild of President Barrow.   
The project, which seeks to restore Banjul back to its former glory as a clean and beautiful capital city, involves the construction of 37 KM of roads and the rehabilitation and maintenance of the drainage and sewage systems.   
"Banjul is clean and safe again. Mosquitoes no longer drive us out of the city... We used to get vexed due to the state of the city. We lived years of indecency because we had no choice," said the Banjul-born Minister of Basic Education, Ms. Claudiana Cole.   
 President Barrow launched the flagship infrastructural project in February this year to the tune of $35.6 Million.   
The Minister of Works and Construction, Bai Lamin Jobe, also a native of Banjul, credited President Barrow for not only conceiving and spearheading the project but also for giving it maximum support. "He called me and lamented the state of the capital city and insisted that we provide a solution", Minister Jobe said, noting that it was a tough process but he's happy that Banjulians are attesting to the benefits today.   
Responding to the overwhelming sentiments of appreciation expressed by the residents of Banjul, President Adama Barrow said the Banjul project enjoys so much political goodwill from his government. He explained he had to summon the Ministers of Works, and Finance at his office several times to find a solution to the Banjul problem.   
Contracted to a Gambian-owned Gai Construction company, the rehabilitation project is fully a Gambian affair. According to President Barrow, it was conceived, implemented, and financed 100 percent by Gambians citizens.  
Minister of Fisheries, Hon. James Gomez urged youths of the city to take advantage of the employment opportunities available no matter how much income they can make from it. "There's dignity in labour. So hold on to any work you can find, and blessings will find you one day," he admonished.  
The Minister of Local Government, Hon. Musa Drammeh traced the genesis of the project to two years ago when the city got flooded and the assessment that followed revealed that the project was beyond the capacity of the City Council. 
The president also expressed delight that 90 percent of the jobs from the rehabilitation are held by natives and residents of Banjul. He promised more jobs with the commencement of the seaport expansion project and the construction of a dry harbour in Banjul.   
Read Related Article :