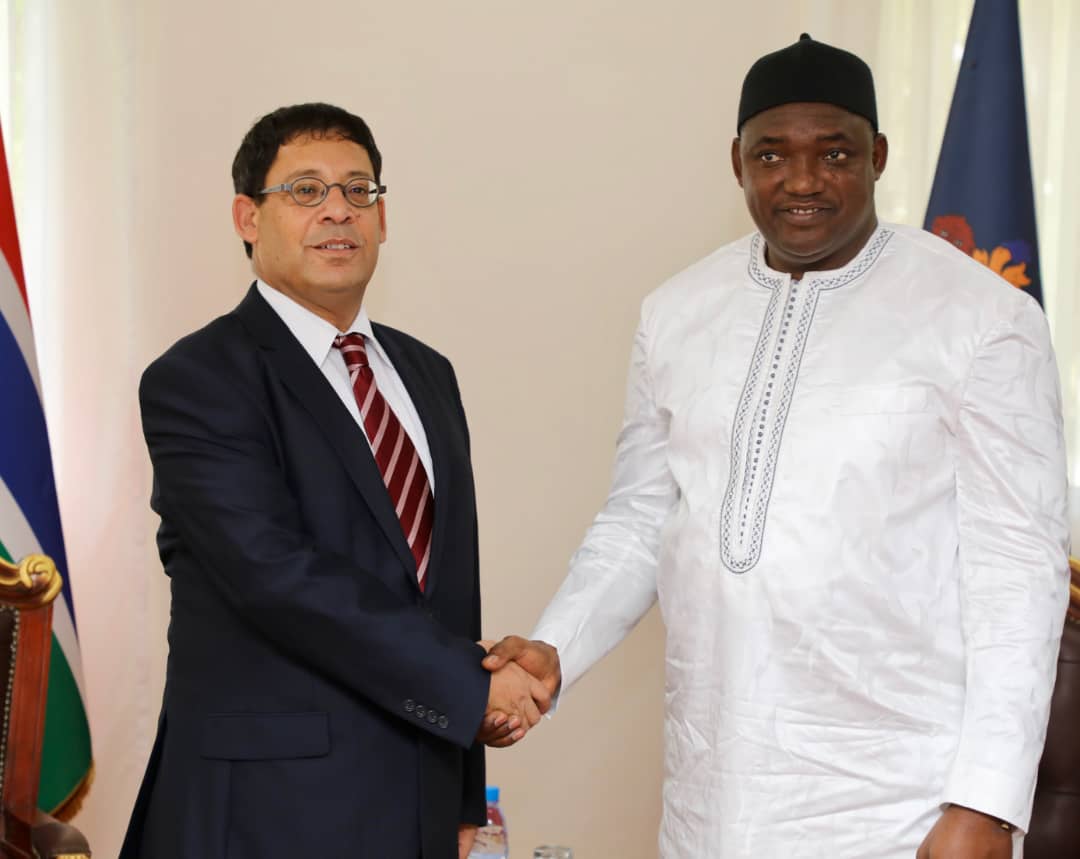 Latest news
President Barrow Receives New Ambassadors from Israel and South Africa
His Excellency, President Adama Barrow on Wednesday received another set of new diplomatic envoys accredited to The Gambia in a busy week of diplomatic activity. The Ambassadors of the State of Israel and the Republic of South Africa met the Head of State to present their Letters of Credence at a colorful ceremony at the State House in Banjul. A red carpet was rolled out and a military Guard of Honor was mounted for inspection in honor of the dignitaries.    
Republic of South Africa
The Ambassador of the Republic of South Africa, His Excellency Lenin Magigwane Shope was the first to call on the President. After the presentation, a closed-door discussion followed where the two leaders talked on the state of bilateral relations between their countries exploring areas of cooperation for development.
"South Africa share a similar history of difficult times that it overcame and transitioned to democracy. The Gambia can learn from South Africa's democracy and transitional justice examples, especially in the area of truth and reconciliation," President Barrow told Ambassador Lenin Magigwane Shope in a closed-door engagement.
He further told the envoy that South Africa needs to demonstrate more commitment to African integration for the benefit of all her peoples. He expressed the readiness of his government to work with South Africa and others to make the continent a beacon of hope.
Ambassador Magigwane Shope on his part expressed the commitment of his government to work with The Gambia, especially in the areas of investment and agricultural modernization, agro-processing and exports.
The State of Israel
The President of the Republic, His Excellency Adama Barrow also received the Letter of Credence of the Israel Ambassador to The Gambia, His Excellency Roi Rosenbelt. During the indoor discussions, the Head of State told the Israeli envoy that The Gambia would continue to advocate for peace in the Middle East, using the opportunity to call on Israel and Palestine to come to the negotiation table and dialogue a way out of the long-standing conflict.
"It is only through dialogue that you can bring an end to conflicts of any given situation," President Barrow said.   
He recalled his meeting with President Netanyahu on the sidelines of the ECOWAS summit held in Liberia a few months ago. The two leaders discussed economic progress and agricultural value addition in support of his government's national development plan.   
Ambassador Roi Rosenblit on his part expressed the goodwill of his government in supporting The Gambia in attaining the goals outlined in the national development plan 2018-2021.
This week, several new ambassadors took turns to present their Letters of Credence to the Head of State marking the beginning of the diplomatic duties in The Gambia. These diplomatic activities by President Barrow are central to the foreign policy goal of re-opening The Gambia to the world.
Read Related Article :