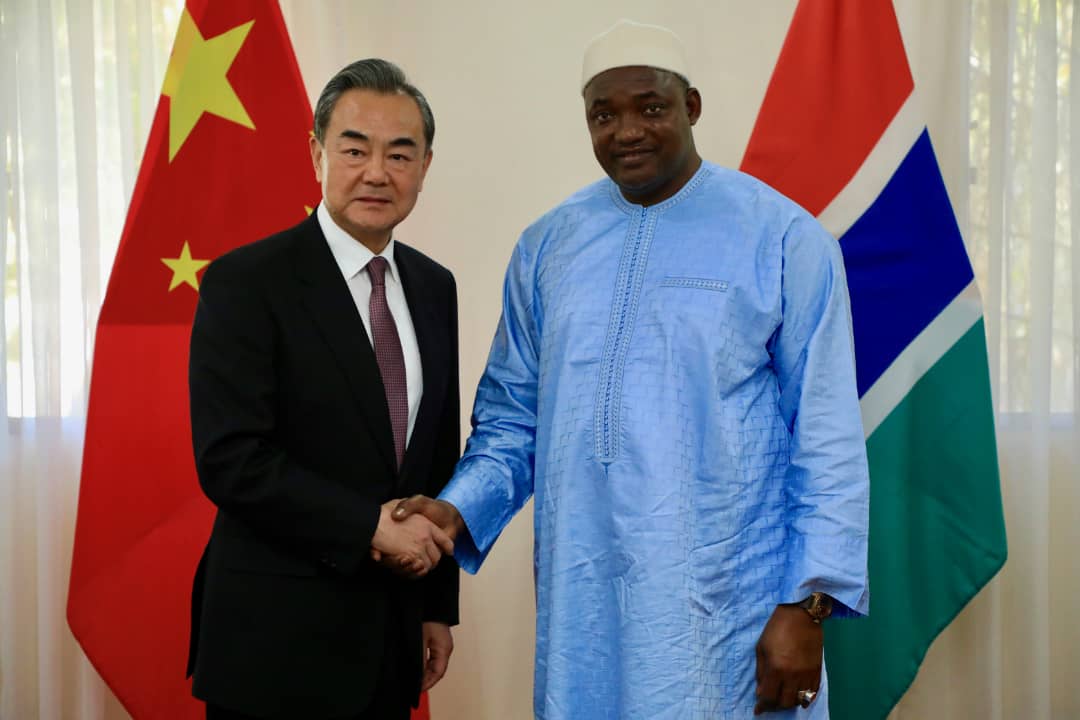 Ceremonial
Visiting Chinese Foreign Minister renews commitment to Gambia
State Councillor and Minister of Foreign Affairs of the People's Republic of China Wang Yi, renewed the commitment of his country towards the Republic of The Gambia in a meeting with His Excellency, President Adama Barrow at the State House on January 5, 2019.
Foreign Minister Wang is on a continent-wide visit of Africa and The Gambia was his first port of call in what officials described as "a new voyage of China-Gambia friendship". He told The Gambian President that his visit demonstrates the great importance that China consistently attaches to its Gambia friendship.
The meeting with President Barrow came on the heels of a bilateral talk also held with his Gambian counterpart, Momodou Tangara at the Corinthia Atlantic Hotel in Banjul.
"Since China resumes relations with The Gambia two years ago, there has been a great boost in bilateral cooperation between the two governments and the people of our countries. I bring you warm greetings from President Jing Ping," Foreign Minister Wang told President Barrow.
President Barrow acknowledged that China attaches importance to its relations with the Gambia, and assured the Foreign Minister Wang of his government's commitment to the One-China Policy.
China has proven to be a great partner in Gambia's development endeavours since the Barrow administration assumed office in December 2016. The Gambian President said the launch of several infrastructure projects like the International Conference Centre, the two bridges and 50km road project in the Upper River Region, are just examples of how Gambia is benefitting greatly from its friendship with China.
"Since my election into office in 2016, Chinese Ambassador was the first to visit and express support to my administration. I have visited China twice within eight months and have met President Jing Ping. This alone speak volumes about China's commitment to The Gambia," President Barrow said, maintaining that he cannot thank China enough for its partnership.
He also called for China's support in Gambia agricultural sector, as 75 per cent of the country's population relies on agriculture for their livelihoods. Yet, he added, the country is not still food self-sufficient. Agriculture is a priority area in President Barrow's development blueprint, the National Development Plan 208-2021.
President Barrow said the government has a policy of agriculture mechanisation and agro-processing for value addition and exports. However, the expertise and capacity of the country is limited despite the availability of land, man power and fresh water. He urges the Chinese government to provide technical support towards realization of the goals of agricultural sector.  
Read Related Article :