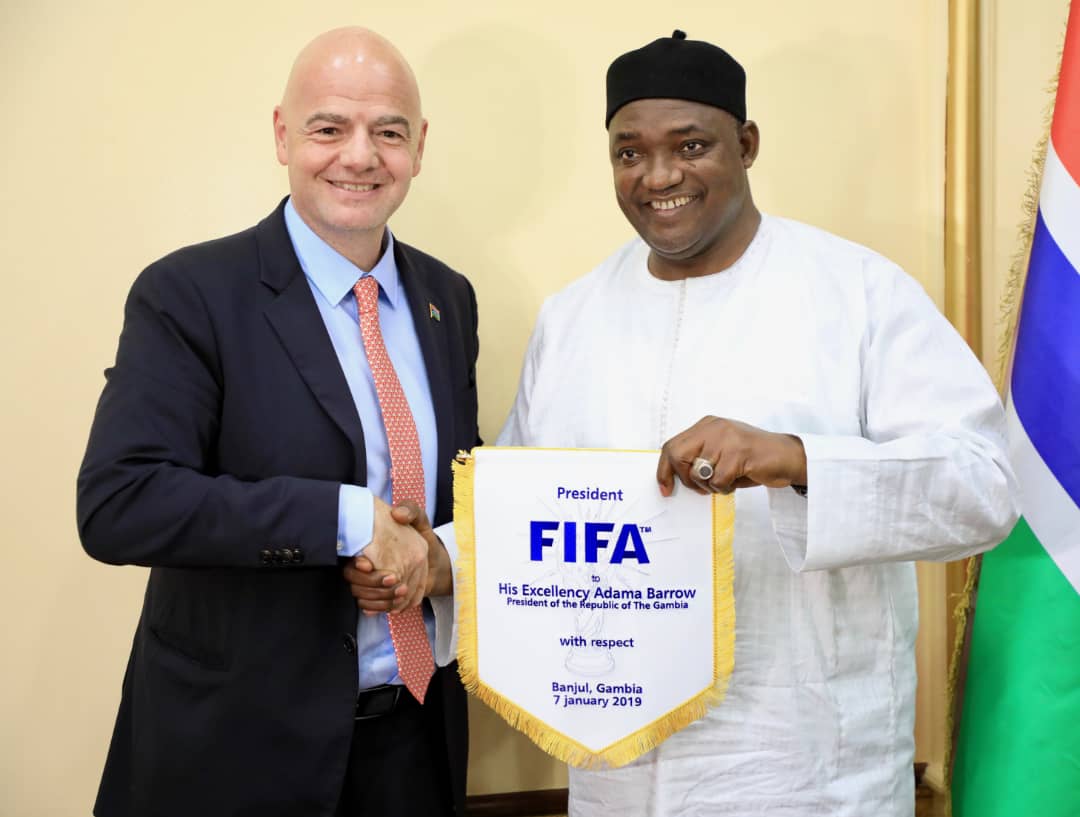 Ceremonial
FIFA President presents World Cup ball, jersey to President Barrow
The Swiss-Italian President of the international football body, FIFA, on Monday, January 07 2019 presented an official World Cup ball and FIFA number nine jersey with "Barrow" inscribed on its back to President Adama Barrow at the State House.
Mr. Gianni Infantino was on a one-day working visit to meet Gambia's football officials and government authorities to discuss the development of the game in West Africa's smallest nation. He was received at the airport by President of Gambia Football Association, Lamin Kaba Bajo, who also accompanied him to the State House.
President Adama Barrow in receiving the packages expressed delight at the visit of the FIFA President, describing it as historical in the history of football in The Gambia. "My government considers FIFA as partners in the development of national football," President Barrow told the delegation. "Your visit served as encouragement to us in this drive. It also shows your commitment to the development of Gambia's football," he added.
President Barrow maintained that it is a "new Gambia" with great possibilities, but football financing can be expensive for small economies like The Gambia. That is why the country relies on support and partnership with FIFA for football development.
 As a great fan of soccer game, President Barrow calls for strong technical capacity of the country's football body (GFA) in order to win games.
FiFA President, Mr. Gianni Infantino described The Gambia as a footballing nation. He said the country's beauty and the smiles of its people when combined with football is "really magical".
Mr. Infantino announced that the international body has raised its financing to national football bodies by 20 per cent. However, that does not seem enough for The Gambia as the country needs to do more to develop its national football.
"We will need to have a real national stadium that reflects the national mood for football. Football is a unifying game and it can change societies and bring together people towards a common cause," he said, hoping that The Gambia can be the football capital of the world.
Read Related Article :