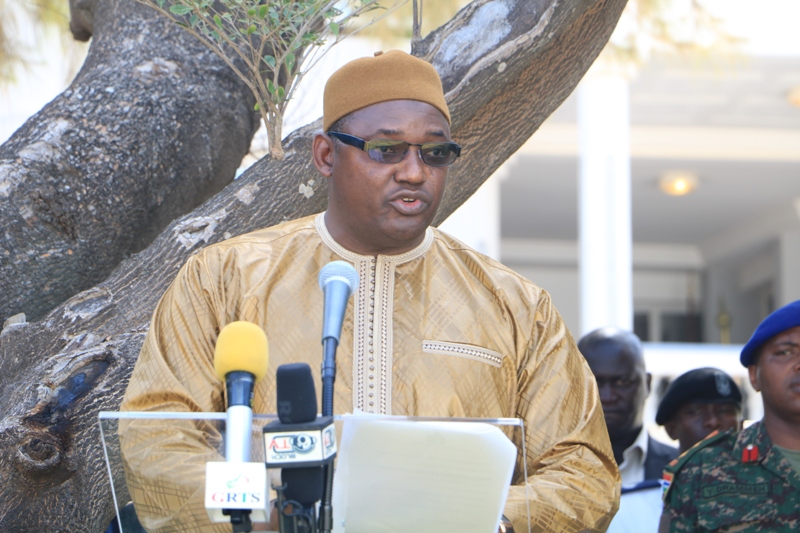 Ceremonial
REMARKS BY H. E. ADAMA BARROW THE PRESIDENT OF THE REPUBLIC OF THE GAMBIA ON THE OCCASION OF THE SWEARING IN CEREMONY OF THE VICE PRESIDENT OF THE REPUBLIC OF THE GAMBIA
Honourable Speaker of the National Assembly
Your Lordship the Chief Justice
Honorable Ministers present here
Secretary to Cabinet
Members of the Diplomatic and Consular corps
Members of the media
Distinguished ladies and gentlemen
Good morning to you all,
It is my utmost pleasure to preside over the swearing in ceremony of the Vice President of the 'new Gambia'. The origin of this momentous occasion has been a long journey. As you are all aware, the story of our fight to bring about peace, democracy and rule of law in The Gambia started a long time ago when very few believed that we had a little chance to win. We finally succeeded because of the contributions of each single individual such as Aja Fatoumatta Jallow Tambajang who tirelessly helped with the campaign from its beginning and sacrificed a lot to get us to where we are now.
Clearly, Madam Fatoumatta Jallow-Tambajang is no stranger to this portfolio of Vice President as she has efficiently held the position in an overseeing capacity since March this year. As the Director of Press and Public Relations has indicated, Mrs. Jallow-Tambajang is a strong professional woman of sound character and integrity with a vast wealth of experience.
She has brought to Cabinet a wide range of skills that are highly required for social reconstruction and rebuilding of the economy after years of divisive rule and mismanagement by the former regime.
Ladies and gentlemen
It is clear that no leader, however strong, can succeed at anything of national significance unless without the support and cooperation of the people they are tasked to lead and sworn to serve.
I have full confidence in and strongly believe that the lady sworn in today will undoubtedly support the Presidency and perform her assigned role as Vice President accordingly. As mentioned earlier, this has been demonstrated in recent months while she was overseeing the Office of Vice President.
As I have always said, I feel encouraged and hopeful whenever I welcome highly skilled and dedicated Gambians especially women to positions of responsibility and today is no exception.
I extend hearty congratulations to our new Vice President for her well-deserved appointment.
I pray that Allah subhanahu wa ta ala smoothens the path to success and glory and grants us all the blessings, guidance and protection we need to prosper.
I thank you all.
Read Related Article :