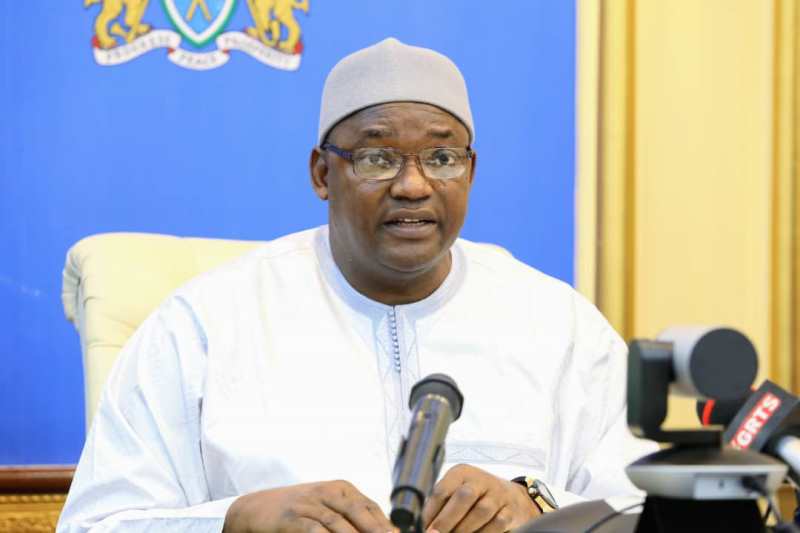 Ceremonial
Gambia remains committed to the ECO, urges member states to do same
 His Excellency, President Adama Barrow has told his colleague Heads of State and Government that The Gambia remains committed to achieving the goals of the ECOWAS single currency, the ECO. 
He gave this assurance at a virtual meeting organised for Member States of the West African Monetary Zone (WAMZ) this morning.
The Gambian leader said while the ECOWAS Authority has made progress on the proposed introduction of the ECOWAS Single Currency by the year 2020. The Francophone countries in ECOWAS, through its West African Economic and Monetary Union (UMOEA also recently announced a similar programme with opposing exchange rate monetary policies within the same region.
"There is need, therefore, to review these decisions in line with Article 15 of the 48th Ordinary session of the Authority of the Heads of States and Governments of 16th December 2015," President Barrow told the meeting, attended by Presidents of Sierra Leone, Liberia, Guinea, Ghana and Nigeria.
Since 2017, The Gambia has constantly achieved three of the four primary convergence criteria, missing only the Budget deficit criterion.  Similarly, on the secondary convergence criteria, The Gambia has consistently achieved one of the two criteria, missing the public debt-GDP ratio.
Decisions have been made already on the name and symbol of the future currency; the exchange rate regime, the monetary policy framework, the model Central Bank, and the name of the common Central Bank.
However, the West Africa Monetary Zone Convergence Council wrote to the ECOWAS Commission to "constructively engage" both the ECOWAS Commission and West African Economic and Monetary Union Member States on issues of concern to the Zone's Convergence Council in respect of the Single Currency Programme earlier this year.
The Gambian President urged that the Authority of Heads of State and Government of the Zone should provide guidance on this crucial issue, calling for a review of the parallel monetary programmes in the West Africa sub region.  
"I will emphasise here that The Gambia remains committed to the revised roadmap of the ECOWAS Monetary Cooperation Programme. This commitment has been translated into sustained improvements on achieving the set of macroeconomic convergence criteria," he said.
Meanwhile, the meeting Chaired by the Chairman of the ECOWAS Authority of Heads of State and Government, H.E Julius Maada Bio of Sierra Leone  concluded with two propositions:
1.      Convene an emergency Summit of Heads of State to discuss a way forward for the two monetary unions' decision on the ECO
2.      Call on UMEOA community not to go ahead with the launch of the ECO pending the proposed meeting of Heads of State of the ECOWAS.
Read Related Article :