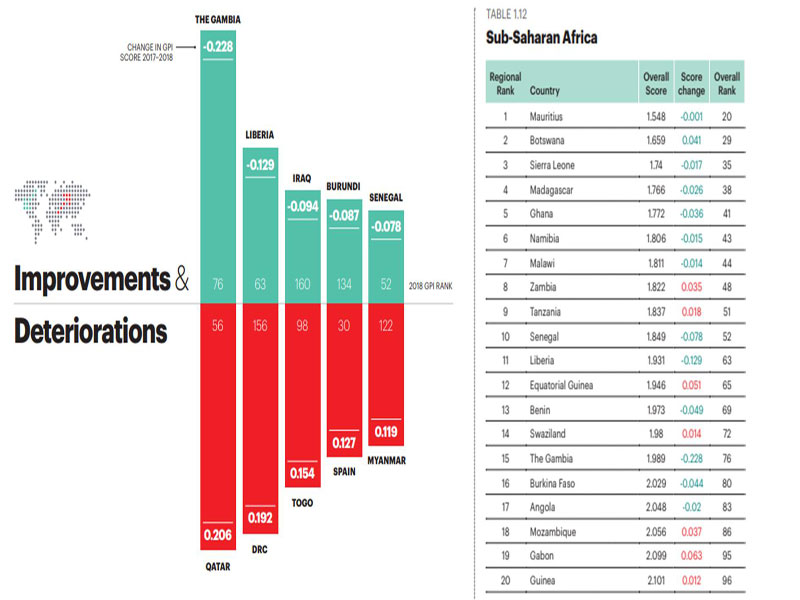 Latest news
GLOBAL PEACE INDEX: GAMBIA RECORDS WORLD'S LARGEST IMPROVEMENT IN PEACE
Since the 2016 election of Adama Barrow as president, The Gambia has recorded the world's largest improvement in peace, moving up 35 places in the latest ranking of Global Peace Index, from 111th in 2017 to 76th. This massive achievement now means that The Gambia is ranked, for the first time, amongst the 15 most peaceful countries in sub-Saharan Africa.
This is yet another global report that has favorably ranked the leadership style and governance and development efforts of the Barrow administration. In 2018, a scorecard published by major independent global financial and research institutions like the World Bank, IMF, Brookings Institute, Chatham House, among others gave high ratings to the country in the area of governance, public finance management, human development, etc.
Click the link below (also attached in PDF format) and check pages 18, 19 & 20 for more on The Gambia.
http://visionofhumanity.org/app/uploads/2018/06/Global-Peace-Index-2018-...
Read Related Article :