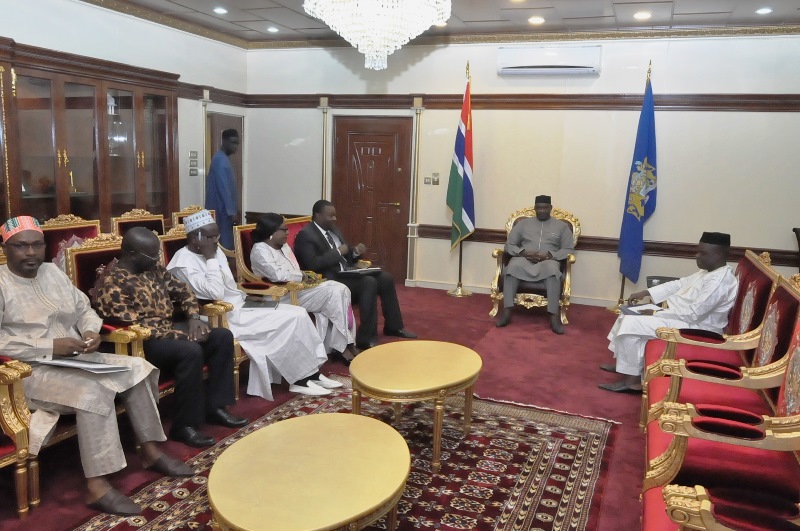 Latest news
National Human Rights Commission pays courtesy call on President Barrow
After eleven months into operations, the National Human Rights Commission (NHRC) paid a courtesy call on President Adama Barrow at the State House, on Wednesday. President Barrow expressed delight at the meeting with the Commissioners, and said he had been following their activities through publications.  He further encouraged them to work towards nurturing human rights and rule of law in our emerging democracy with neutrality.
The Commission briefed the President on its activities and the progress they have registered so far, including setting up a secretariat. With a broad mandate of promoting and protecting human rights in The Gambia, the Commission already made several investigations into cases brought before it. The NHRC also held meetings countrywide, to raise awareness on its work as an independent national institution.  Its other activities included monitoring of human rights situations in the country, networking and collaborating with the UN and other institutions in Africa and outside.
Chairman of the Commission, Mr. Emmanuel Joof explained the purpose of their meeting with the Head of State.  "It is more of a courtesy call on the President, to talk about what we have done, and what are some of the challenges we faced and how to improve things," he said after an audience with the President, which described as "a good one."
Established as a permanent human rights institution through an Act of the National Assembly, the body relies on government funding to execute its mandate. With a strength of twenty-six (26) staff, they work in partnership with government in promoting and protecting human rights in the country.
Read Related Article :