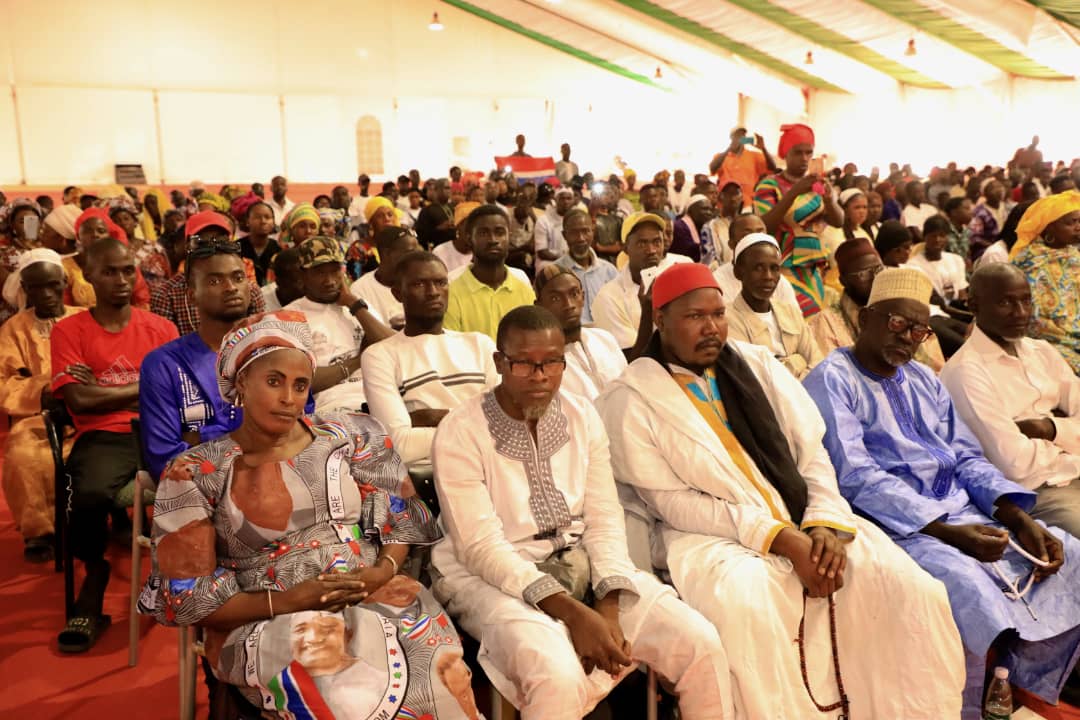 Latest news
Kombo South Constituents pay courtesy call on President Barrow
About 2,000 constituents of the Kombo South District on Sunday, January 7th, 2019, paid a courtesy call on His Excellency, President Adama Barrow at the State House in Banjul. The group, led by constituency chairman, Boubacarr Gitteh, pledged their support to President Barrow's development endeavours for the Gambia in general and their constituency in particular.
Mr. Gitteh said Kombo South has fertile lands with gardens; they have sea and sand resources – each of which presents potentials for their development. He added that the constituency wished to stay behind President as the leader of the country, urging that all Gambians should be a part of President Barrow's development wagon.
"Our sacrifices for The Gambia were motivated by the yearning for freedom and progress of the people. Hence we stand with you in the forward match to the real8sation of that goal," Mr. Gitteh told the president at the event.
Gibriel Jallow lamented that some communities in Kombo South enjoy access to amenities like water and electricity while others do not. He said travelling within the region in the past had been a true nightmare for resident, thanks to the "very bad road networks". Their youths also need skills training centres to enable them acquire life and entrepreneurial skills to create self-employment.
Hon. Ebrima Sillah, Minister of Information and Communications Infrastructure described the meeting as "an important event" for a democratic government. He said government is required to frequently consult and dialogue with the people on their needs.
"In a few months, Kombo South and West Coast Region's power inadequacies would be history. Jambur will host the solar power plant that would electrify and provide water supply for residents in the West Coast Region and Kombo South is a priority region for this project," Minister Sillah said.
The Jambur-Farato road construction, one-time halted due to funding, was expedited once the problem was brought to the attention of the president. Kombo South constituents no longer fear accessing health facilities when our pregnant women need delivery, Sillah explained.
On employment and entrepreneurship, Minister Sillah said micro-enterprises such as agro processing have great potentials in the West Coast region. "Government has a youth entrepreneurship scheme called YEP. Through this, youths can engage themselves in processing fruits from their gardens. Horticultural products are integral to nutrient supplies for families. Therefore, women gardeners would benefit from fencing and boreholes that would boost productivity," he added.
President Barrow on his part said he was elated with the urn out of the constituency delegation. "I am amazed at the sight of new faces in recent meetings with the Kombo South constituents. Know that your commitment to supporting my government is well appreciated. It also means whatever you do not have from me is beyond my capacity," he assured the gathering.
He emphasized that unity is the only way forward for this country, and saboteurs will not stop his government from progress. The president further assured that access to clean, cheap water supply for all is key in his government's development priority.
"For us, this is not politics. It is just part of series of works we are engaged in to deliver the promises we made to people. In that case, we can base our campaigns on our record in office. I really appreciate the support from the People of Kombo South," he added.
Read Related Article :