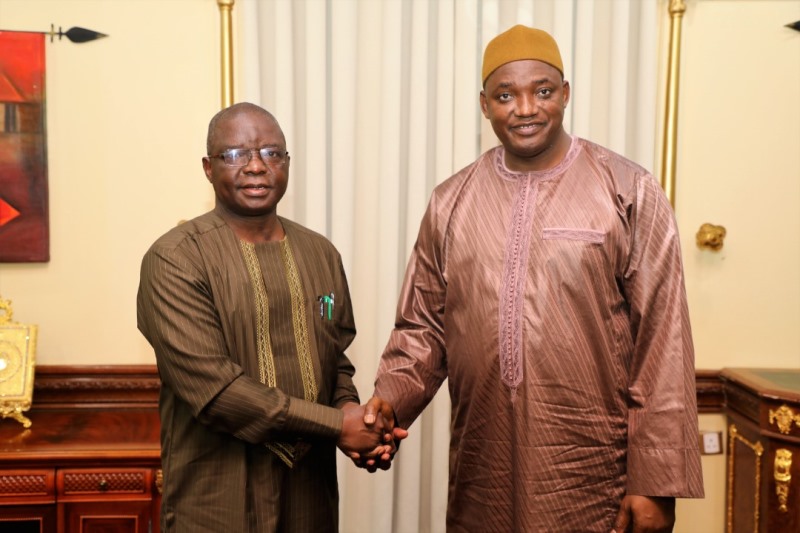 Ceremonial
New policy positions Gambia to address security concerns – says Security Adviser
A National Security Adviser, Gen. Kellie Conteh has posited that with the launch of the National Security Policy (NSP), The Gambia is in a better position to address its immediate security concerns a a country.
The General who was on technical assistance from the Republic of Sierra Leone to The Gambia was at the State House to bid farewell to President Barrow. He had completed a two years' tour of duty here, working with the Office of the National Security Adviser in operationalising the government's security sector reform agenda.
"I think, aside from having attained the NSP itself, we have a lot more to do. The President has taken charge of it fully; he has revamped the team that are now engaged in the process. We are now looking at a more speedy delivery of the targets and objectives," he told the State House press corps after his meeting with the President.
He expressed deep sense of satisfaction and hope that the trajectory has now been set and the foundation laid. Hence it should be easier to build on that foundation, he said.
President Barrow is happy that The Gambia has reached such a milestone of launching the NSP. It was the first time and as such, it will provide the guiding framework on what the security sector reform should be based upon, in terms of performance, the requirements for all services, particularly given them their mandates which had been convoluted in the past.
"The Security Sector Reform process has come very far. It has been a long journey since it started in 2017 but it has more issues to address," President Barrow added.
For Gen. Conteh, the SSR is "a process, a very long term process" that entails a holistic approach to transform an entire sector that has been affected since independence, although the worst part is the 22 years of the former regime.
He noted that specific gaps have been filled to ensure that policy and strategic frameworks become that overarching guidance for security sector delivery in the country.
Read Related Article :