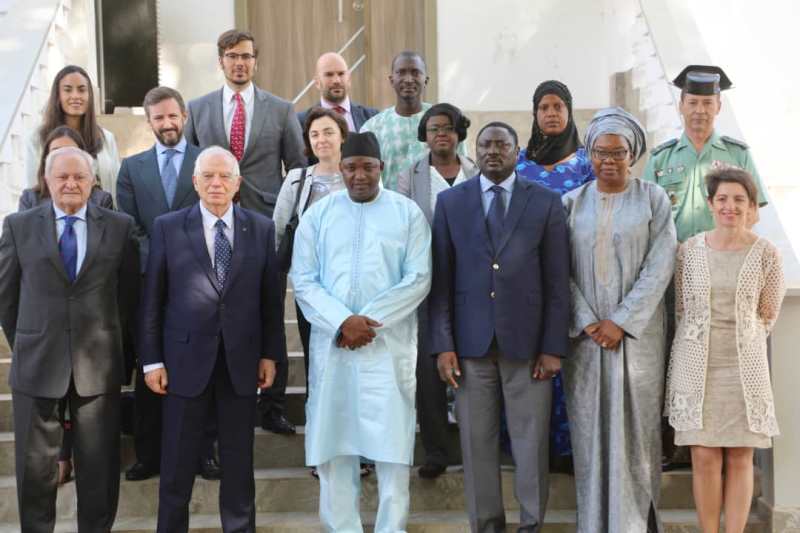 News release
President Barrow calls for Spanish investment in The Gambia
His Excellency, President Adama Barrow has called for Spanish industries to invest in mechanised farming, fisheries and tourism in The Gambia. He described the potentials of value addition to Gambian products as a great means to creating employment for the country's youths.
President Barrow made the commend when he received in audience the Spanish Foreign Minister, Mr. Josep Borell Fontelles at the State House, this morning. The President commended the Kingdom of Spain for the second high level delegation that visited Banjul since January this year.
"This is a clear testimony of your commitment to the relationship we share for the mutual benefit of our two peoples. Both our countries see democracy as a shared value for our peoples," President Barrow told the visiting delegation.
For the Kingdom of Spain, The Gambia is an example of democracy after a long dictatorship. Gambia's youthful population is a great opportunity for the country. Over 19, 000 Gambians are registered in Gambian Embassy in Madrid. Another 16, 000 also registered in the Catalonia region. There are thousand others spread around the country, making Spain the country with the highest number of Gambian migrants in Europe.
Spanish investors are now eying industries such as tourism and agriculture in The Gambia. Their government is ready to provide the necessary support for investment in The Gambia.
"We have to accompany economic development with political development. Gambia has been receiving the highest Spanish support per capita. However, that is no longer the case as The Gambian population has been growing," Minister Fontelles said.
The Minister added that a new investment direction takes into consideration both human, technological and physical capital for each of the identified sector of interest for their investors. He assured that the bilateral relations with both countries will grow from strength to strength.
Read Related Article :