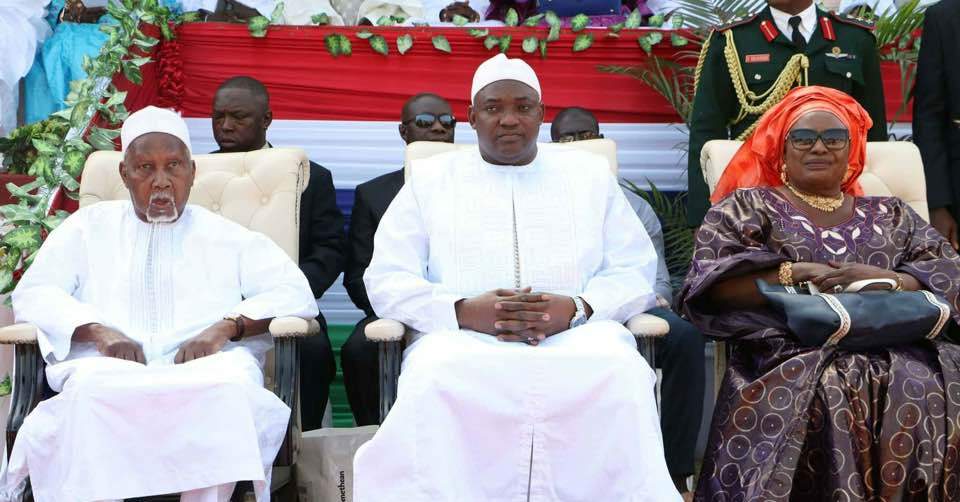 Ceremonial, Latest news
President Barrow expresses gratitude to former president Sir Dawda Kairaba Jawara
President Adama Barrow expressed his gratitude to former President, Sir Dawda Kairaba Jawara and Lady Chilel Jawara for honouring his invitation to attend the Gambia's 53rd Independence anniversary celebration. Former President's attendance despite old age signified his desire to see democracy thrive in The Gambia, as well as provide support and encouragement to President Barrow and his administration. His presence brought nostalgia to many and re-echoed the desire for The Gambia to once again take its place amongst the nations that respect human rights, democracy and rule of law. President Barrow said the attendance of the former President was an honour and has demonstrated that Gambians are all one big family, no matter their political and ideological differences.
The Gambian leader through this message thanked all Gambians and friends of The Gambia who took their time to attend the celebration. President Barrow also thanked the organising committee and the Security and armed forces for the security they provided as well as the magnificent march pass. President Barrow further expressed gratitude to the school authorities, teachers and parents for the efforts made to get the children to participate in the march pass.
In a closed door meeting with heads of the security forces, after the march pass, the President thanked them and further urged them to continue to work together and strengthened national security. He added that the world is moving towards democracy and that the armed forces have an important role to play in the promotion of peace and stability for democracy to thrive.
President Barrow prides administration for re-connecting the Gambian democracy where Sir Dawda Jawara's government left in 1994. He called on all Gambians to continue to nurture peace, unity and respect for rule of law as we all work for the advancement of our nation.
Read Related Article :