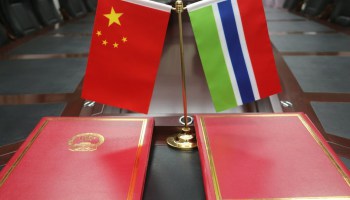 Media Advisory
President Barrow Travels to The People's Republic of China on a state visit
His Excellency, Mr. Adama Barrow, President of the Republic of The Gambia will travel to the People's Republic of China on a state visit with effect from Tuesday, 19 December at the invitation of the Chinese President, His Excellency, Xi Jinping.
President Barrow will hold bilateral talks and meetings with the Chinese head of government, His Excellency, Li Keqiang, Premier of the State Council and H.E, Zhang Dejiang, the Chair of the Standing Committee of the National People's Congress, the Chinese legislature. During his visit, President Barrow will also visit several development projects and industries in Beijing and several Chinese provinces. This would accord him the opportunity to promote The Gambia and its investment opportunities as well as strengthen the bilateral cooperation between The Gambia and The People's Republic of China. The Gambian leader will also have the opportunity to meet and interact with the Gambian community in China.
The Chinese government will also host a state banquet in honour of President Barrow.
The President, accompanied by a high powered delegation will depart Banjul International Airport tomorrow, Tuesday, 19 December 2017 at 8:30 AM. Those invited to see him off are requested to be at the airport half an hour before departure for the usual ceremonies.
Read Related Article :