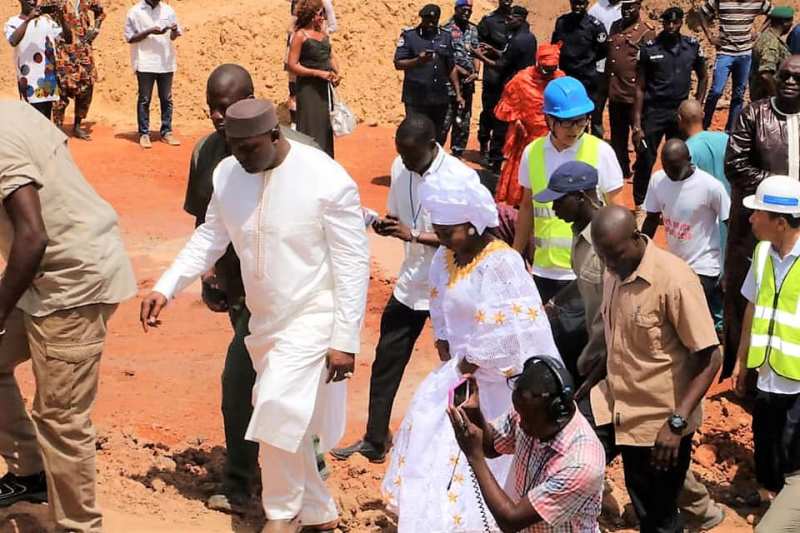 Ceremonial
PRESIDENT BARROW: URR ROAD PROJECT IS HIGH PRIORITY
President Barrow started off Friday with a fact finding visit to the Basse Headquarters of the Basse-Koina Road Construction project, where he emphasized it's completion as a top priority for the government.
During the briefing on the progress of work, the President said he attached great importance to the successful completion of the project, which was why he took time off his holiday schedule to see for himself. He promised to provide all the right support to ensure the timely completion of the work.
President Barrow thanked the Chinese government and the team on the ground for supporting the project.
The President was received by the Governor, Upper Rover Region, Hon. Fanta Bojang- Samateh Manneh, who informed him that her office and the community at large were impressed with progress of work.
Project Manager, National Road Authority, Mr Mustapha Darboe led the briefings, assuring the president that quality will not be compromised. His Chinese counterpart commended the Ministry of Works and the Governor's Office for providing electricity, water, and internet at the project site.
Basse-Wuli Bridge Construction
At the Basse-Wuli crossing point, where a bridge is being constructed, the President was shown the different stages of work. He also made a brief stop at the Basse branch of the Barrow Youths for National Development encouraging them to continue supporting his development agenda.
Meeting with the APRC party
En route to the Chamoi bridge, the leadership of the APRC party, who were on a nationwide tour, met the President's entourage to pay their respect. The interim leader of the party, Hon. Fabakary Tombong Jatta said they couldn't have been in the same region with the President without meeting him. The President expressed gratitude for the gesture, calling on all citizens to actively engage in the promotion of peace and stability in the country. President Barrow told them while leaders come and go, their words and deeds and legacies remain.
Political defections
In another political engagement, former supporters of the opposition Gambia Democracy Congress called on President Barrow to declare their allegiance to him.
At a mini-meeting at the President's home chaired by Dou Sanno, the Assistant Political Adviser to the President, several supporters declare their allegiance and support to President Barrow. Also, Undah Nyang, a well known political heavyweight from the KMC, chairmen, and "Yai Compins", all reached out to the President at Mankamang Kunda and stated that they were in solidarity with him. Countless other citizens took the break to pay him a visit at his hometown.
Earlier in the afternoon, the President went to Julangel village for Friday prayers.
Read Related Article :