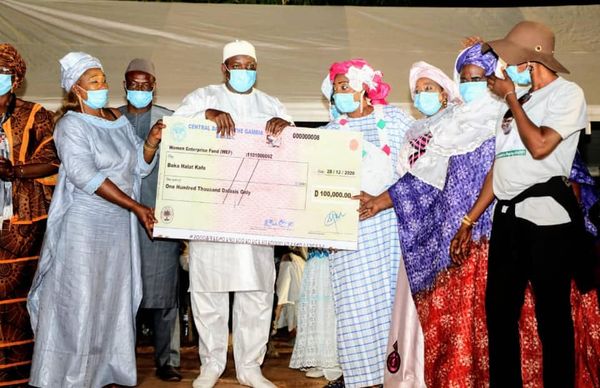 Latest news
Six Women Groups in West Coast Benefit from the Women Enterprise Fund
President Adama Barrow on Thursday presided over the presentation of cheques worth D450,000 to six women groups in the West Coast Region as part of an initiative that aims to uplift the socio-economic condition of Gambian women.
The presentation was done while the President was on his dialogue with the people in Brikama.
In his address, President Barrow expressed gratitude at the huge number of people that came out to welcome him. He assured the people of Brikama that the rehabilitation of their roads is part of a masterplan to construct all the dilapidated road networks in all the major towns in the country.
The President also promised to construct the Brikama market to a standard one in 2021 while calling on the people to support his development agenda.
The Minister of Women, Children and Social Welfare, Hon Fatou Kinted, said the Women Enterprise Fund is a project initiated by the President to boost the economic status of Gambian women. She called on women to have their eligible children registered to enable them to vote in the next presidential elections.
Various speakers including the Alkalo and the Chairman, Brikama Area Council, all praised the President for the unprecedented development projects his government is registering while assuring him of their unflinching support.
Read Related Article :