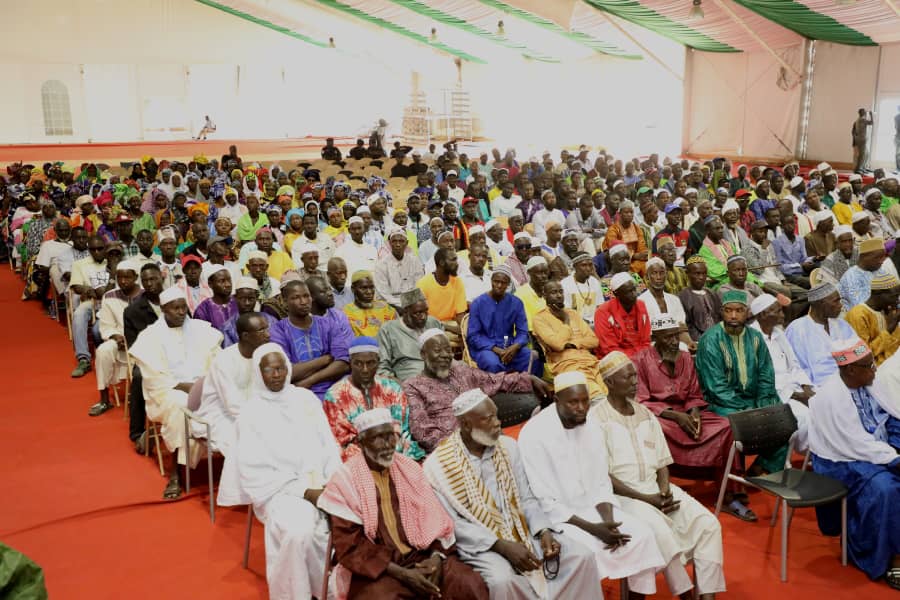 News release
URR Elders, Youth Extol New Transformations in the Region
A delegation of over 800, descended on the State House over the weekend to renew their solidarity with the President, and thanked him for the transformative developments currently in the Upper River Region (URR).
The delegates came from the seven constituencies of URR and comprised youth, women, religious leaders and council of elders. They also pledged their "unflinching support and loyalty" to His Excellency, President Adama Barrow and his government; discussed pertinent issues of interest to their region where the President descended from.
"Within two years in office, we are currently enjoying 24 hours power supply. New transmission networks are being expanded from Basse to Soma, covering settlements that never tasted electricity. Fertilizer was available at a discounted prize of D700 and delivered to your house no matter where you live," Alhaji Bubu Drammeh, a leader among the delegation outlined.
President Barrow in a statement described the occasion as "a beautiful and historical gathering of influential and opinion leaders" across his home region. He said the group collectively represents a formidable force whose support to his government would make a big difference.
Development projects like roads, bridges and electricity, have been a long-time cry for the people of this region. However, President Barrow mobilised $80million grant from China for the construction of two highways and two bridges. These would connect both the North and South of the region, up to the eastern border with Senegal.
"By January, 80 kilometres of road, from Lamin Koto to Passamass in Wuli would have been tarred. We will soon lay the foundation stone for the commencement of the construction works on the two roads and bridges," President Barrow said. He added that there are talks with the contractor to construct other key roads connecting the highway from inner settlements.
Mr Bamba Conateh from Basse decried access to drinking water for their livestock and for domestic use, especially in remote areas of the region.
Mrs. Jarai Jagana, lady councilor, also decried the challenges women face in their family care responsibilities. Hence the availability of farm implements and machinery will greatly boost their capacity to cultivate more on their gardens, farmlands and rice fields.
Hamat NK Bah, Minister of Toursim and Culture, said there is an understanding between Gambian hotels and the government that would enable women horticulturists to supply their horticultural produce to hotels.
Minister of Local Government and Lands, Mr. Musa Drammeh said there was an existing infrastructure for sustained agricultural activities in The Gambia by 1994.
"When the former regime came, they found stores already constructed across the country for the storage of farm produce. There was a tractor ploughing scheme and model centres in Jenoi and Sapu. The A(F)PRC discarded all these for loans to purchase tractors that were distributed to their supporters and loyalists, denying genuine farmers access," he said.
Read Related Article :