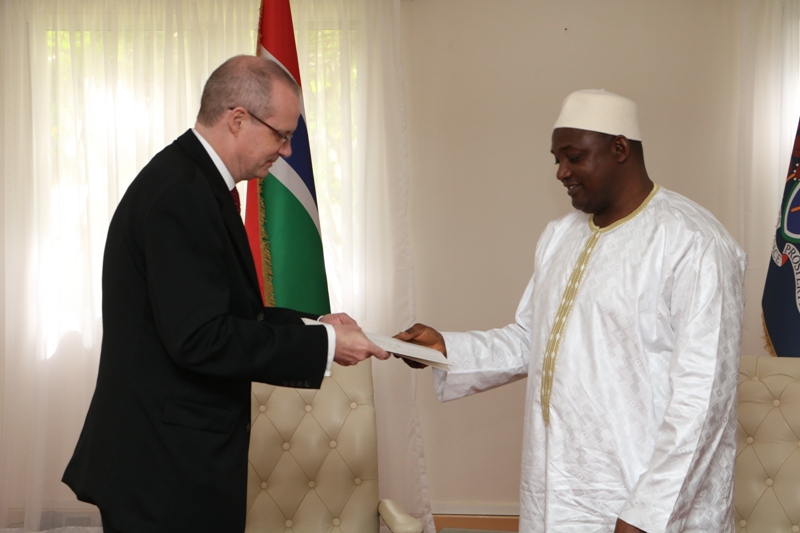 Latest news, News release
German Ambassador presents his letter of credence to President Barrow
Barely 24 hours before the arrival of President Frank Walter Steinmeier to The Gambia, German ambassador His Excellency, Stephen Roken this morning presented his letters of credence to President Adama Barrow at State House.
President Barrow thanked Germany for the support it provided during the impasse and also through the European Union. He urged Germany to continue to be a voice for The Gambia and support the resource mobilisation for the country scheduled at a donor's conference in 2018, to work towards the realization of the National Development Plan. The President noted the difficult economic situation The Gambia needs to address.
President Barrow called for the strengthening of bi lateral relations in the area of technology, access to clean water and boosting the tourist industry with German tourists. Speaking on migration, the President said there is need to put migration on a wider context that will require cooperation to promote investment in The Gambia to create jobs in the management of migration.
After presenting his credentials Ambassador Roken said he will work for a re-start in German-Gambia relations after a 22-year break. Mr. Roken expressed delight that President Steinmeier will be visiting The Gambia saying it is a political signal that the country is firmly on the road to a democratic transition after a period of autocratic rule. He said that Germany is ready to support The Gambia during this period to build the capacity of Gambians to handle and manage the change its people have fought for. Ambassador Roken added that a lot of preparatory work has been done to re-establish bi-lateral relations on the full range, saying Germany is committed to starting again on the political, economic, cultural and sports sectors to match the economic needs of the country. He expressed the hope that visit of the German President will give impetus to these efforts.
The German diplomat said his country is poised to offer support to The Gambia at the multi-lateral levels including the United Nations, European Union, and African Development Bank.
An excellent bi-lateral cooperation already exists in the fields of security, trade, agriculture, tourism, health and education. Germany has supported in capacity building at the Ministry of finance as well as in technical vocational education under its development agency, GTZ now GTI.
Read Related Article :