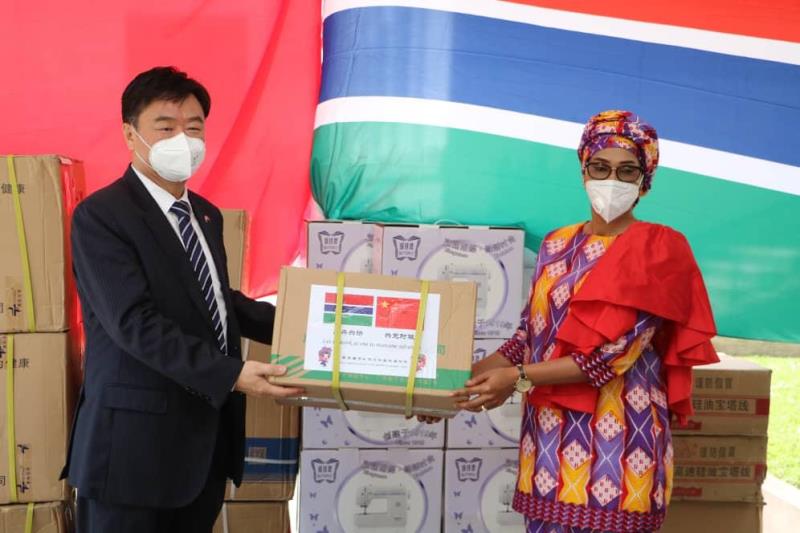 Latest news
Chinese Ambassador Admires Gambia's Fight Against COVID 19
The Ambassador of the People's Republic of China in The Gambia, His Excellency Ma Jianchun has said that his country admires the vigour and high spirits with which The Gambia continues to fight against the Covid 19 pandemic.
Speaking at the handing over ceremony of new batch of medical supplies and sewing machines to the Office of the First lady at State House Friday morning, Ambassador Jianchun said his country will continue to stand by The Gambia during these challenging times.
A consignment of 10, 000 medical masks, 1,000 N95 respiratory masks, 100 protective suits, 100 safety goggles, 79 infrared thermometres and 15 set of sewing machines were handed over to Her Excellency, Madam Fatou Bah Barrow at the State House. They will be forwarded to some target beneficiaries in the country.
"I would like to express admiration for Gambia government and people's efforts in fighting the corona virus," he said.   
 As wearing face masks in public has now been made mandatory by government, Ambassador Jianchun expressed hope that the additional sewing machines could, through the First Lady's office, show their country's gesture in helping boost the production capacities of locally-made face masks.
"This in return will further assist in protecting people's lives and health," he added.  
The Gambian Minister of Foreign Affairs, Dr Mamadou Tangara described the current Covid 19 situation in the country as "exceptional crisis" that requires urgent attention of all actors to effectively combat it.  
He acknowledged that this is third in a series of support from the People's Republic of China to The Gambia in recent months. From the medical consignment donated by Jack Ma Foundation, to another consignment from the Chinese First Lady through the Office of the Gambian First Lady and now, a provincial government in China also chipping in.
"We cannot thank you enough for your support," Honourable Tangara said. "When we talk about a community of shared future between China and Africa, this is a typical demonstration of it," he added, noting that the pandemic has gone across borders and affects everyone around the world.   
The medical supplies came from Guangxi Zhuang regional government in Southern China, which is twin city to the city of Banjul as the capital of The Gambia. On top of those supplies, the Chinese Embassy in Banjul also added 15 set of electronic sewing machines.
The Director of Prisons, Mr. Ansumana Manneh in his vote of thanks, expressed delight that the First Lady had consistently been there for the Prisons since 2017.
Mr. Yusupha Sanyang, President of the Gambia Nurses and Midwives Association said with each donation to the health sector from First Lady Fatou Bah Barrow, work of Gambian nurses become easier.
Other onward beneficiaries from Office of the First Lady include Tanka Tanka Psychiatric Hospital, Children Shelter, Home for the Elderly and People Living with HIV.
Read Related Article :