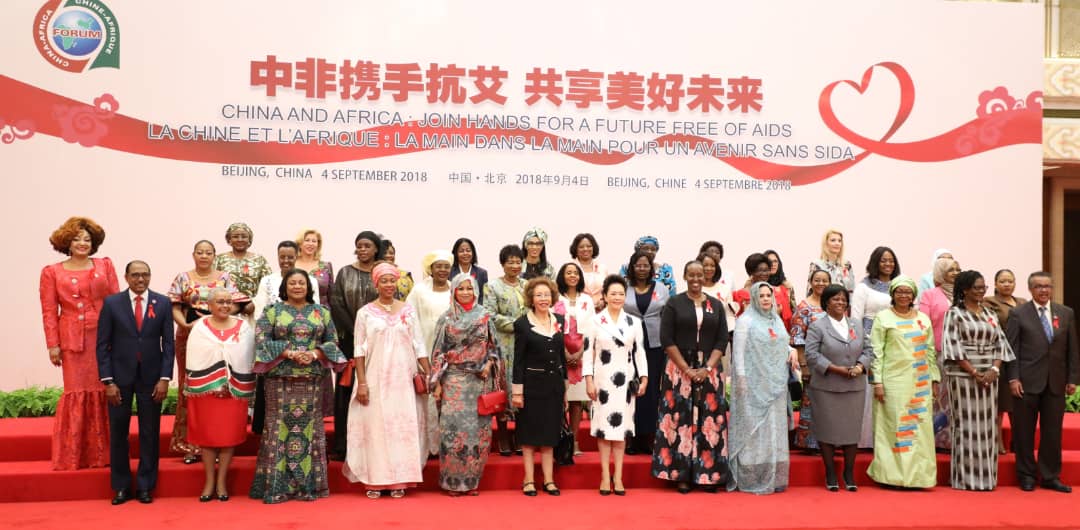 Latest news
FOCAC Summit: First Lady Barrow, Others Call for ''Urgent Response'' to HIV/AIDS in Africa
On the margins of the forum on China-Africa Corporation, the First Lady of the Republic, Her Excellency participated in the joint initiative of the China-Africa Thematic Meeting on HIV and AIDS hosted by the First Lady of the People's Republic of China, Professor Peng Liyuan, and attended by nearly fifty other African first ladies.
Also in attendance were the World Health Organization Director General, Dr. Tedros, and the UNAIDS Executive Director, Michel Sidibe. The theme of the event was China and Africa: join hands for a Future Free of AIDS.
The meeting was chaired by the Chinese Minister of National Health Commission who also gave the opening remarks. The First Lady of China who doubles a Goodwill Ambassador World Health Organization for Tuberculosis and HIV/AIDS stressed her commitment to join hands with Africa in the response to HIV and AIDS as well as Tuberculosis. The Chinese First Lady gave a synopsis of the HIV situation in China and her work in particular in response to the epidemic, particularly in provincial China adding that significant progress is being made. She pledged that from 2019, China will provide substantial support to the AIDS response in Africa as part of efforts to strengthening the existing China-Africa Corporation.
Representing the various African sub-regions, the First Ladies of South Africa, Central African Republic, Ghana, Burkina Faso and Sudan also noted the urgent need to step up efforts in the response to HIV and AIDS, particularly among the high-risk groups such adolescents and women. They all noted that young women age 15 to 24 bear a disproportionately high burden of HIV, accounting for 59% of new infections globally.
The WHO Director General laid emphasis on the need to recognize the link between HIV and Tuberculosis adding that we cannot sustain the response to HIV if TB is left out. He lamented on the urgent need for China to support the Africa CDC and the control of Communicable Diseases like HIV and AIDS as well as TB. Dr. Tedros also placed emphasis on the importance of ensuring availability of accurate data as well as prioritizing investments in high impact interventions. He finally urged African Governments to commit more resources for the response to AIDS, TB and other communicable diseases adding that this is the only way that we can guarantee sustainability.
The UNAIDS Executive Director, Michel Sidibe commended the First Ladies for their unwavering commitment and support in the Global Response to HIV and AIDS. He added that the current biggest challenge is complacency adding that we are far from wining the battle against HIV and AIDS.
The meeting ended with a group photo and the signing of a communique.
Meanwhile, the first ladies were hosted to an official state lunch by the First Lady of China, and later taken on a conducted tour of an arts exhibition of Chinese cultural artefacts. They also met with Chinese creative artistes and painters.
Read Related Article :