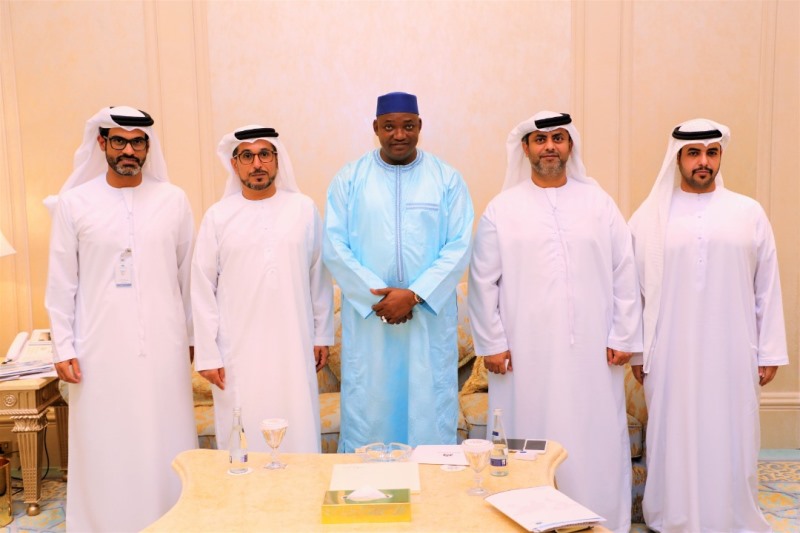 Latest news
Private Sector, Investors enjoy legal protection and respect in The Gambia, President Barrow tells Abu Dhabi Chamber of Commerce
His Excellency, President Adama Barrow has described The Gambia as the best place for international businesses that are interested in exploring business and investment opportunities in Africa. Outlining the unique comparative advantages of the country during a meeting with the Director General and top officials of the Abu Dhabi Chamber of Commerce, President Barrow said The Gambia is strategically located in the West African subregion pointing out its close proximity to some of the biggest economies on the African continent.
He said his government is creating the right environment for investments and business to reach their fullest potentials, indicating that they were putting in place flexible policies and stringent legal cover for businesses to thrive unhindered.
''Our economy is driven by the private sector, which is why we have high regards and respect for the private sector'', he said. ''We have legal protection for investors, we embrace free trade and have an open door police towards businesses''.
President Barrow extended an invitation to the members of the business fraternity in Abu Dhabi to visit The Gambia and take advantage of the investment potentials that exist in agriculture, tourism, telecoms, health, among other sectors.
H.E Mohammed Helal Al Mheiri, Director General of Abu Dhabi Chamber of Commerce thanked the president for meeting and exploring with them the possibilities of investment in The Gambia. He said his association has a membership of 120, 000 and promised to work with members to visit and explore investment potentials in The Gambia.
Minister of Finance and Economic Affairs also thanked them for their interest in the Gambian market. He revealed that the governments of The Gambia and Abu Dhabi had signed an MOU on trade protection, promising that a double taxation treaty will be presented to the next sitting of the Parliament.
Abu Dhabi Fund for Development
The President also held a separate closed-door meeting with officials from the Abu Dhabi Fund for Development.
Read Related Article :