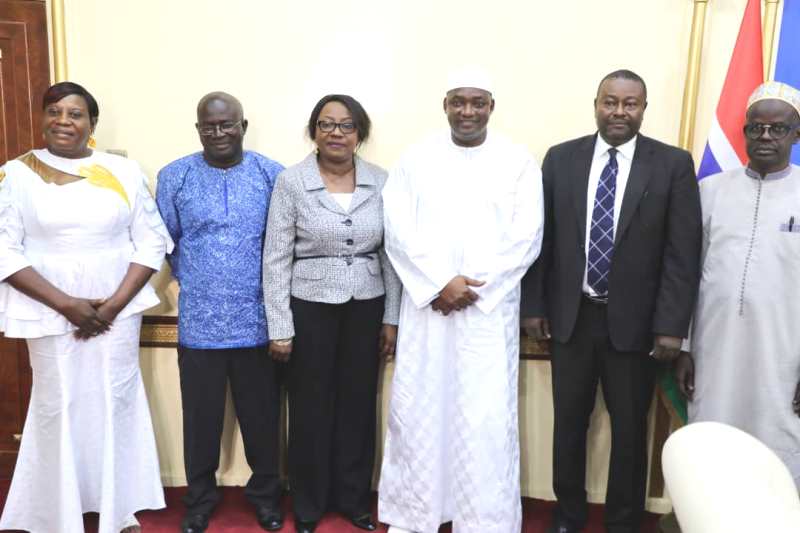 Latest news
President Barrow: My government will safeguard the autonomy of the new Human Rights Commission
His Excellency, President Adama Barrow has assured that his government will ensure the full independence of the newly created National Human Rights Commission to be able to carry its core mandate of protecting and promoting the human rights of Gambian citizens.
The president made the commitment on Thursday while presiding over the swearing-in of members of the first ever National Human Rights Commission at the State House in Banjul.
The five-member Commission, led by Chairperson Emmanuel Joof - a seasoned human rights lawyer – took the oaths of office, allegiance, and secrecy in front of a cross section of high level government officials, family members, and well-wishers.
In his congratulatory remarks, the President described the ceremony as a "historic milestone" in fulfillment of the human rights obligations of the government. He highlighted that all categories of citizens would look up to the commission for the protection of their individual and collective rights, imploring on the commissioners to deal with all complainants "fairly and objectively, regardless of the identity, ethnic or political backgrounds" of complaints. He also promised that government would render all the necessary support, be it moral or financial, to the commission in realization of its objectives.
President Barrow explained that "the Commission is not a substitute for the court system''; however, he hastens to add that ''its effectiveness is expected to have far reaching consequences on the lives of ordinary Gambians by creating an avenue to provide redress for issues affecting their rights''.
According to the Minister of Justice, the swearing-in reaffirmed the fidelity of the government to the values and principles of the rule of law, good governance, and democracy. He said the sworn-in commissioners are the perfect fit for the job, describing them as people who ''possessed the right knowledge, experience, and stamina'' to faithfully carry out the rigors of the job. Minister Tambadou said the positions were advertised and the National Assembly scrutinized and approved the final list of candidates.
Chairperson of the Commission, Emmanuel Daniel Joof, contend that by establishing the Human Rights Commission, the government has taken great strides towards regaining the lost track record of a country that was one time known for being a bastion of human rights on the continent.
Beside hosting the African Commission on human and People's Rights, Banjul is also credited for the being the city where the African Charter was born (called the Banjul Charter). These denote the significant roles that the country played in the formation and development of Continent's human rights bodies and instruments.
"Unfortunately, 22 years of repressive rule relegated The Gambia to a pariah state where human rights and the rule of law were sent to the doldrums… the fundamental rights and freedoms of its people which incidentally enshrined in our 1997 Constitution at Chapter 4 were flouted by the executive and its agents with impunity," Mr. Joof lamented.
Read Related Article :