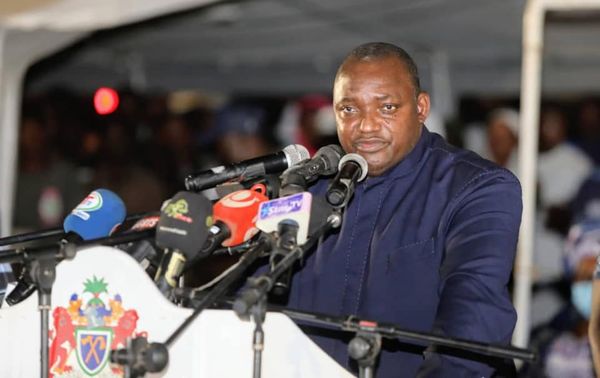 Latest news
President Barrow To The People of Ebo Town: My Government Has Solutions To Your Problems
President Adama Barrow on Tuesday told the people of Ebou Town in the Jeswang Constituency that his government has already laid down plans to tackle the perennial challenges the people are currently facing. He was speaking to a large crowd as part of his ongoing meet the people tour.
The President said the main Ebou Town road is part of the OIC roads to be constructed in 2021, adding that works will begin in March this year and that the roads will be 'first-class' infrastructure.
Citing the ongoing infrastructure projects of his government, President Barrow called on the people of the Jeswang Constituency to support his government in delivering the much-needed development projects. He assured them of his government commitment to improving the health sector, education, electricity and other necessities.
Additionally, the President said ''Gambians are enjoying the democracy that my government is championing and this is evident in the independence of institutions in the execution of their functions.''
The Hon Minister of Youths and Sports Bakary Badjie also added his voice to the call for Gambians to support the President given the rapid development his government has registered within four years. He said the President has the advancement of women and Youths at the core of his development agenda, citing the Women Enterprise Fund and Youth Development Fund.
The Hon Minister of Tourism Hamat N..K Bah echoed the President's call for Gambians to engage in politics of ideas and vision that would allow people to make a choice in fair and credible elections. He said with the democracy and pace of development in The Gambia, Gambians couldn't ask for a better President than Barrow.
Read Related Article :