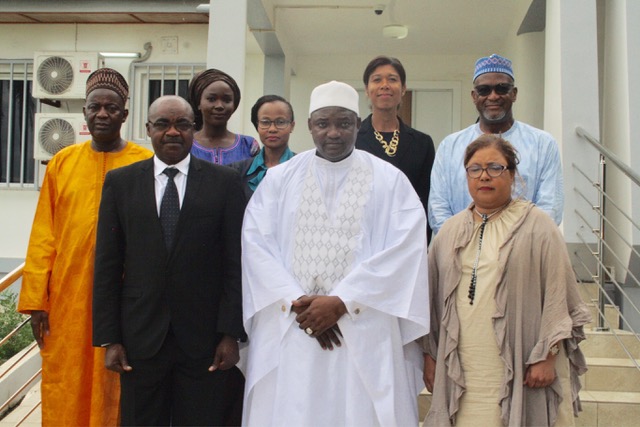 News release
President Barrow receives Commonwealth Secretariat assessment team
President Adama Barrow today received a team of officials from the Commonwealth Secretariat in London. The officials had been in The Gambia for a week long assessment mission, which could soon lead to the country's full return to the Commonwealth.
President Barrow expressed his pleasure at receiving the Commonwealth assessment team, and thanked them for their mission. He said it was easy for The Gambia to re-apply for membership of The Commonwealth because of the deep-seated feeling by Gambians that they had never really left the Commonwealth family. He described the unilateral decision to withdraw the country from the organisation in 2013 as unfortunate and uncalled for, stressing that The Gambia never wanted to leave. He said: "Nobody wants to be isolated. We want to be part of all international bodies. This was one man's decision and not something that was put to all Gambians. If it had been a referendum, the decision would never have been taken."
The President stressed that The Gambia wished to be fast-tracked to full membership of the Commonwealth once again. He said it was inconceivable for Gambians to remain outside the Commonwealth when other nations wanted to join. The people of The Gambia, he emphasized, had taken a decision in December 2016 about the direction of their future as a new democracy and a new Gambia.
"We are careful and are calculating our steps so that we do not make mistakes," President Barrow explained. "We believe in the principle of democracy and are positive about our future. Gambians are looking forward to our return to the Commonwealth. So the message is full membership as soon as possible. We are confident that your fact-finding mission will have provided you with all the information that you need, and we hope that the report will be positive, because The Gambia is back."
Head of Human Rights at the Commonwealth Secretariat, Karen McKenzie thanked President Barrow for the team's warm welcome in The Gambia, and for the government's logistical support for a week of very productive meetings with stakeholders.
Ms McKenzie said The Gambia's membership in the Commonwealth over the years had been beneficial and provided technical assistance to the country. She explained that the Commonwealth Secretariat would now make an assessment of how well The Gambia met membership prerequisites, and this would form part of the Commonwealth Secretary General's consultation with member states.
The formal process, thereafter, will entail the Government of The Gambia being invited to submit a formal request to rejoin the Commonwealth. That formal expression of interest would then be considered by the members.
Other members of the Commonwealth Secretariat team with Ms McKenzie were: DrRoger Koranteng, Head of Public Sector Governance; Ms Marie-Pierre Olivier, Legal Policy Advisor, Rule of Law; and Ms Lindiwe Maleleka, Political Officer, Africa in the Secretariat's Political Division. The team was accompanied by Ms SaffieSankareh,Permanent Secretary from the Ministry of Foreign Affairs& Gambians Abroad.
Read Related Article :