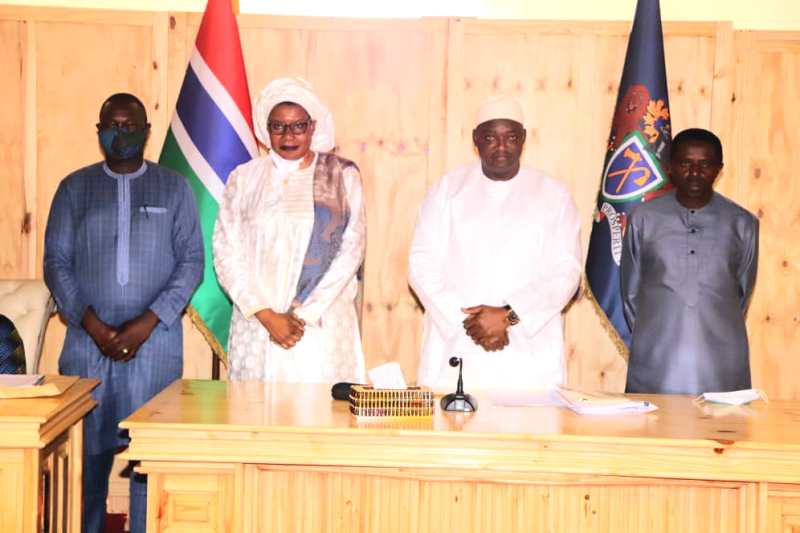 Latest news
'Make Civil Service Respectable, Trustworthy' - President urges new SG, deputy
President Adama Barrow has urged the newly appointed Secretary General and the Deputy Secretary General to work as a unified team to make the Civil Service respectable, trustworthy and the envy of those who have regard for professionalism, efficiency and dedication to national development.  
He said the appointment and swearing of the new Secretary General and Head of the Civil Service, the Deputy Secretary General and Permanent Secretary are a result of the government's desire to strengthen the Civil Service and the sectors for the attainment of national goals and aspirations.
The Gambian leader said these two are important portfolios, especially in relation to the Office of the President and the Civil Service. He further expressed hope that the appointments will contribute significantly to improving Government machinery and operations, in accordance with the legal and governance frameworks that guide service delivery in the country.
He was presiding over the swearing ceremony of the two top civil servants and a Permanent Secretary. Mr. Nuha Touray was appointed last week when Mr. Muhammed Jallow retired at the age of 60. Ms. Salimatou Touray was appointed few weeks ago as Deputy Secretary General and Head of Civil Service; while Mr. Louis Moses is elevated from deputy Permanent Secretary to Permanent Secretary.
The trio took the oaths of allegiance, execution of duties and secrecy at the State House today, June 4th 2020. President Barrow thanked them for accepting these appointments and wished them success in their assignments.  
To the Permanent Secretary, the president said they are a cardinal professional pillar of the Ministry.  He urged them to work towards building the systems and subsystems that the government so desire to institute.
"Your ability to draw together your team, recognising the strength in each member and supporting one another is the surest path to success in your institution. Be professional and serve the country without fear or favour; but, be tactful, strategic and devoted to duty in the interest of the Gambian nation," he told them.  
Government continues to strive for enhanced institutional and legal reforms to achieve the national development goals. President Barrow said he is committed to leaving a legacy of sustained institutions with the required systems, laws and mechanisms to guide and solidify the workforce and develop the right attitude to work. 
Speaking on behalf of the sworn officials, Secretary General Mr. Nuha Touray thanked the President for reposing the confidence in them to serve the government.
"We are au fait with the government's development objectives which are articulated in the National Development Plan. We are committed to working to achieve these noble objectives," he said, soliciting support of the Cabinet and the entire civil service for a successful tenure.    
Read Related Article :