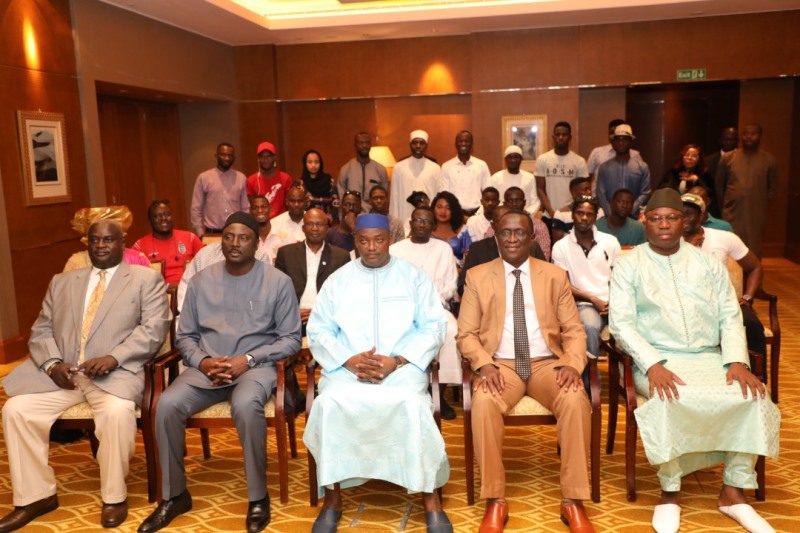 Latest news
Gambians in Abu Dhabi thank President Barrow for New UAE Embassy
Representatives of the Gambian Community in Abu Dhabi have heaped praises on President Barrow for his government's response to their calls for the establishment of a Gambian Embassy in Abu Dhabi, United Arab Emirates. Scores of speakers at a well-attended meeting with Gambian residents from across the Emirate expressed gratitude for the establishment of a fully-fledged diplomatic mission manned by hardworking diplomats who look after their needs.
''We are very happy and would like thank you, Mr. President Barrow, for not only establishing a embassy since your visit last year, but also for appointing the best staff'', the Public Relation Officer of the association of Gambians in UAE, Mr. Lamin Jallow said. He added that the staff are quite open and often consult with the association on most pertinent issues, singling out the Ambassador for taking up their matters almost immediately after his arrival. Similar sentiments were expressed by the Secretary General, Modou Lamin Kambi, who also pleaded with the government to assist them with scholarship packages for career development. He also enlisted the support of the government to assist those who wish to be repatriated.
Taking turns to respond to the various speakers, President Barrow assured the gathering of their unalloyed commitment to the welfare of Gambians at all times.
The Gambian Ambassador in the United Arab Emirates, His Excellency Nfansu Bojang informed the gathering of the new memoranda of understanding signed between the governments of The Gambia and UAE that will put in place a legal framework of protection for Gambian workers in the country. However, he was quick to urge the residents to seek work legally and regularize their status with the embassy while clarifying that the embassy will not send anyone back.
The Minister of Foreign Affairs, Dr. Mamadou Tangara called on them to remain law abiding, stating that the level of hospitality and respect accorded to the president and his delegation in UAE signaled the commitment and promises of the cooperation between the two countries.
President Barrow thanked the speakers for being genuine and acknowledging the good efforts of the government and the embassy staff. He advised the association to work on a financial plan to assist members in addressing their welfare and in emergencies.
Read Related Article :