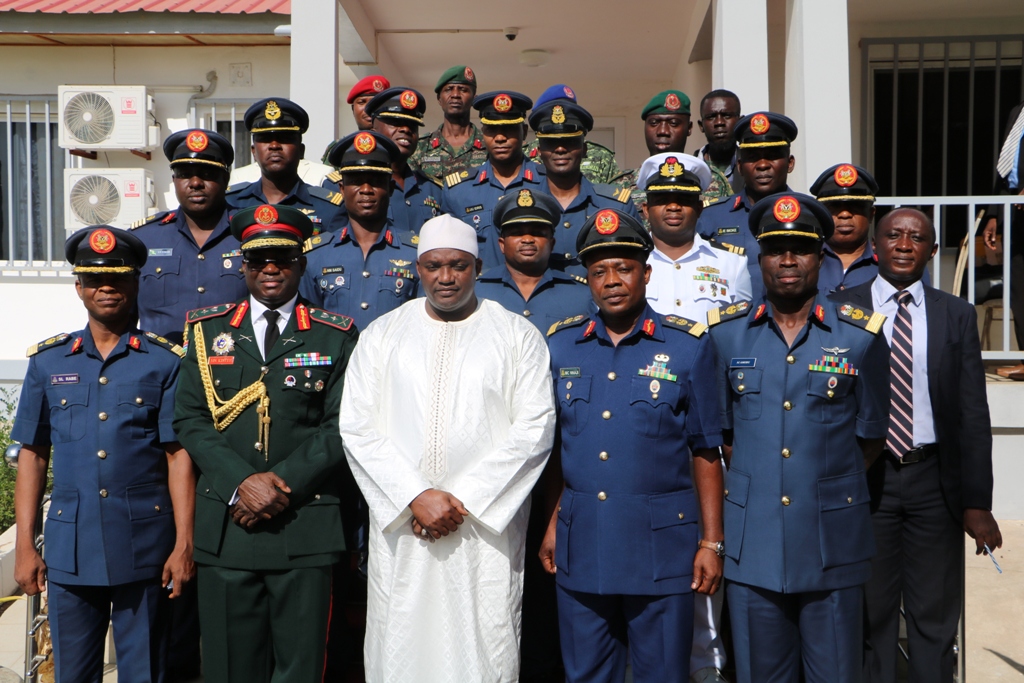 Latest news, News release
Nigerian Air Force War College Participants call on President Barrow
A thirteen-member group of Nigerian Air Force War College participants led by Air Commodore, MC Nnaji paid a courtesy call on President Adama Barrow at his Fajara office this afternoon.
President Barrow told the officers that choosing The Gambia for a study tour was a source of pride for the country. He said he hoped the knowledge sharing from the tour would benefit both countries. The President added that it was good to see African countries confidently sharing experiences with one another. He encouraged more of this spirit.
President Barrow took the opportunity to reiterate the leadership role Nigeria plays in the subregional body, ECOWAS. He thanked the Nigerian Head of State, President Muhammadu Buhari, and his government for supporting The Gambia during its political impasse early in the year. He recognised the strong ties and support Nigeria continues to provide to The Gambia, citing the active presence of the Nigerian contingent to the ECOWAS Military Mission in The Gambia, still serving in the country. President Barrow stressed that with a well trained professional military, The Gambia would continue to play an important role in society in the region. The President extended his sincere gratitude to President Buhari for his commitment to The Gambia, and for defending truth and democracy.
Air Commodore Nnaji said the objective of the Nigerian Air Force War College study tour was to strengthen the knowledge gained in the classroom with experiences from the field. He said the group looked forward to learning from The Gambia how its military uses skills in engineering, construction, and medical outreach to engage and contribute to national development.
The Chief of Defence Staff of the Gambia Armed Forces, Lieutenant General Masanneh Kinteh said the officers in training were expected to learn the role the Gambian military plays in nation building. He said the study tour would enhance their skills in the development of their career, as fighters and peace makers. He encouraged them to interact with their Gambian counterparts, who, he explained, were playing a pivotal role in the ongoing security transformation of The Gambia. During their stay, the Nigerian Air Force War College team will meet various stakeholders.
Read Related Article :