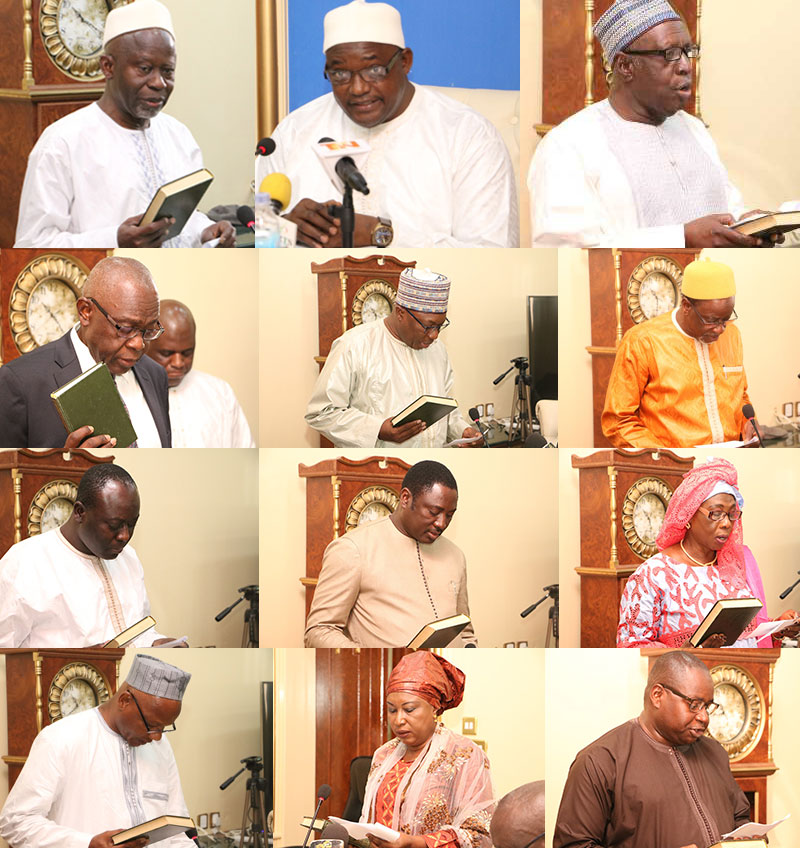 Latest news, News release
'I shall be by your side' New Vice President Assures President Barrow
The newly sworn-in Vice President has given assurance that he shall remain committed and loyal to President Adama Barrow to help him deliver a ''free, democratic Gambia at peace with itself."
Mr. Ousainou Darboe, who had served as Minister of Foreign Affairs, International Cooperation, and Gambians Abroad since February 2017, made the declarations on Monday after taking the prescribed oaths of office, allegiance, and secrecy, along with eight other Cabinet Ministers at a ceremony held at the State House in Banjul.
"As your vice president, I pledge to spend my every waking moment to help you, our elected leader, pursue the agenda and vision outlined for The Gambian people," VP Darboe assured. "The Gambia you envisioned is one that reflects the aspirations of our people with an emphasis on strengthening diversity, unity of purpose in the pursuit of social justice and enthronement of the supremacy of the rule of law," he added.
Vice President Darboe maintained that the ceremony, which was moderated and presided over by the Cabinet Secretary - Ebrima Ceesay, and the President, respectively, was not a mere ritual; rather, a strong demonstration of commitment to show ''utmost loyalty to you [the president], to the constitution and other laws of The Gambia."
In spite of the difficulties associated with nations emerging from a dictatorship, Honourable Darboe stated that the new Gambia under President Barrow has tremendous opportunities to build strong foundations for a free, prosperous and enduring democracy for succeeding generation of Gambians.
For his part, the President congratulated the newly sworn-in Cabinet members and reminded them of the need to deliver for the benefit of all Gambians: ''the 'New Gambia' calls for all to follow the right processes in the service of the nation. Thus, given all the huge challenges, the country cannot move at a snail pace. Rather, it must move together with vigor and seriousness.
"Our individual attitudes towards work will reflect on our collective achievements, hence we must serve as examples and take positive steps to make major reforms in our institutions to promote transparency and accountability," President Barrow added.
The Gambia needs the right institutions, policies and the right human resources to implement all relevant policies and programmes, as well as to establish the right norms in all public institutions, in order to achieve the fight against corruption in tandem with the recently concluded theme of the AU Summit.
"Together, we should rededicate ourselves to serving the national interest in all our engagements, and avoid all negative and selfish attitudes and actions," The President maintained.
The Ministers that were sworn-in are Dr. Isatou Touray, Minister of Health and Social Welfare; Lamin N. Dibba, Minister of Lands, Regional Government and Religious Matters; Mambury Njie, Minister of Finance and Economic Affairs; Amadou Sanneh, Minister of Trade, Regional Integration and Employment; Hadrammeh Sidibeh, Minister of Youths and Sports; Dr. Momodou Tangara, Minister of Foreign Affairs, International Cooperation and Gambians Abroad. Permanent Secretary, Agriculture, Ada Gaye and Government Spokesperson, Ebrima Sankarreh were also sworn-in.
Read Related Article :