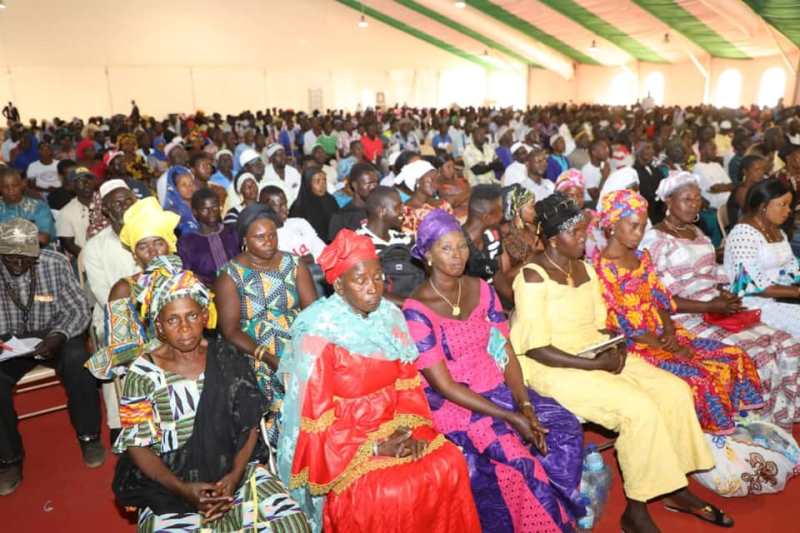 Latest news
President Barrow urges Gambians to take ownership of the NDP
President Adama Barrow has made a passionate plea for Gambians to take ownership of the development blueprint of the government – the National Development Plan – in order to elevate the country to envious heights. In the absence of public support, the President added, it would be challenging to realize the objectives of the development agenda so as to bring meaningful progress in the lives of ordinary Gambia
The president made the remarks while addressing more than two thousand people from Kombo East, West Coast Region, who on Saturday 30th March stormed the State House to demonstrate unconditional support to the NDP, and by extension, the Barrow government. Each of the 33 villages in the farthermost part of Kombo was represented in a grand style.
Illustrating that tangible development works are being carried out in line with the aspirations of the NDP blueprint, President Barrow highlighted the agricultural development activities in URR under French assistance, the construction of the OMVG hydroelectric power plant in Lower River Region and West coast as well as World Bank electricity projects, which will cover communities in Kombo East, as example of ongoing progress. He also announced that 400 more feeder roads would be constructed as part of the NDP programs.
Besides the National Development Plan, the president also disclosed that complimentary sources of support from China would provide women with garden materials, water facilities, and labour saving devices. President Barrow was reacting to scores of speakers from the Kombo East who requested for government's assistance with social amenities, including fencing materials for women's gardens and value addition mechanisms to agricultural products.
The Minister of Information and Communication Infrastructure, Honourable Ebrima Sillah spoke at the event and appealed to the people of Kombo to avoid land conflicts. While urging the communities to be more accommodative of newcomers as demonstrated by their ancestors, Minister Sillah stressed that the rule of law should be respected at all times especially as, regards judicial rulings on land and property matters. He encouraged the gathering to remain vigilant against using social media platforms such as WhatsApp groups to instigate violence and insult on people who hold different opinions, particularly national community leaders.
Honourable Musa Drammeh, Minister of Local Government and Lands; Special Presidential Adviser, Henry Gomez; and National Assembly Member, Honourable Majanko Samusa; took turns to call for unity and loyalty to the Coalition Government under the leadership of President Barrow.
Read Related Article :